As a couple, it is important to make decisions together based on a common ground that both agree on. Take a look at what your similarities are and then decide. This can be accomplished easily by writing down decoration ideas for next decorating adventure that you both would like to incorporate into the home with existing items such as sliding barn doors. For a couple to properly come together as a great decorating team, it is important to take in a few tips that will help to decorating the middle ground.
You need to also be able to agree on how your home's atmosphere will feel. Is it better to have the home warm or sophisticated? And is your home ready for winters? Regardless of how it feels, if you are unable to decide on that aspect, then go ahead and draw it out. Collect various designs of home improvement ideas and brainstorm the possibilities.
From there, you will be able to decipher the similarities. You will then be able to incorporate the combined ideas into the home's design. Decorating the middle ground is not always easy, so if it can't be found, then go ahead and settle on other aspects such as compromising.
While decorating with DIY home decor ideas together is necessary in order for you both to be happy living together.
1. Be Open and Honest
It is always important to be honest and open as you come together to design your home and decorating your living room. This will get rid of all conflict between the two of you while designing. You can also ask yourself questions that will help you to avoid butting-heads. What matters the most to you? What type of feel are you looking for in the spaces? Asking these questions establishes good teamwork and positive relationship as a couple and shows that you are able to unite what you don't like, style, and things you both do like.
---
2. Combine the Area
Having different styles is not a bad thing while designing because you can easily combine them by using a specific color to combine it all. To combine it all, you just need to concentrate on what attributes the items share. If you know what colors both of you enjoy, then combine those colors into your home's design. Accept that you both have differences that can be integrated into your own space. When it comes to the common spaces, agree on a color that is impartial.
---
3. Lay Down Guidelines
Start by decreasing the amount of stress. This means getting rid of items that neither of you care about. The decorating rules by top designers will help you a lot and you must follow them. When this is done, you will be able to compromise easily later. The design will also become an easy process as you see everything coming together nicely. And finally you will be able to convert tired house into a refreshing home.
---
4. Consider Each Other As Customers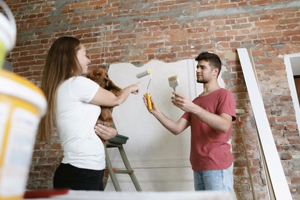 Many designers agree that it is best to treat each other as a customer while designing a home together. By giving one another many choices, you will easily find options that both can concur for decorating the middle ground. If an issue comes up that you both don't agree on, make a note of it and then incorporate an item that is mutually acceptable. By maintaining good communication you can easily bring about a relaxing space to enjoy.
---
5. Be Creative But Don't Over Do It
Having space that is shared means you need to be creative so all can enjoy the space. The best way to accomplish this is by bringing in furniture that provides a good color that will balance the space perfectly. You can use the white furniture as a base for your living room which also provide a relaxation feel. Although the colors could involve brown, white, cream, or gray, the point is to make it as comfortable as possible. You can even throw in some blankets and pillows to add variance.
---
6. Include Repetitive Techniques
By including natural colors, you are able to apply more choices that are impartial to the space. This can provide the fulfillment of color but not feeling burdened by it. However, if you desire a nice color accent, then you can easily make red a color pop.
With repetitive techniques, you can easily transition a room and turn it into something you both desire. Your house design affect's your room and home's temperature equally. By maintaining a single color, you want to be able to maintain the focus one has on the space without being swamped and lost. When the two are able to express themselves, that is when a cohesive balance occurs.
---