Sometimes if you've been living in the same house for a while, you need to refresh things a little bit. You want to make your home more Pinterest-worthy or just something you can be more proud of. Unfortunately, full-scale home renovation projects are never cheap and many homeowners find themselves drowning in remodeling costs they didn't budget for. According to Architectural Digest, " Most jobs will cost more and take longer than you expect".
Ways Refresh Tired House
Fortunately, you can avoid this and still do a successful mini-renovation to breathe new life into your space. In a mini-renovation, you make smaller, cost-effective changes. You don't have to fall prey to the skyrocketing costs and crazy timeliness that disturb you and your family's routine. In every room in your house you can make low-cost high-impact changes and have a space you love coming home to!
Is a Mini-Renovation For You?
Image Source: Pxhere
Just about anyone can benefit from making small changes to their space, and there's a wide range of people and homes that will transform. This is a good strategy for you if;
You've had your home for so long and the seasons have changed so the fittings and fixtures look outdated
You've moved into a fixer-upper and you want to put your own stamp on the space and make it feel like yours
You like to switch things up and don't want to commit to huge changes in your space.
You want to do a "soft-renovation" before committing to something bigger
You're an investor who doesn't want to do a costly full-scale flip.
You live in a rental and can't make permanent changes to the house.
Change Your Bathroom Vanity
Image Source: Pixabay
If your bathroom feels a little dated, one of the most impactful thing you can do is get a new sink area, and get one with extra storage. What's awesome about this is you can get a carpenter to build you a vanity or you can buy it ready made, which makes it a lot easier. You might have to get a plumber to come in and make sure the pipes align, and that everything is in working order. According to Fix It Right, plumbers in Mornington, "a lot can go wrong if you don't get a plumbing consult before you make any changes to your bathroom. The last thing you want to do is make a costly and avoidable mistake."
Wallpaper
Image Source: Pixino
Wallpaper is very popular right now, and it's come back in a majorly modern way. You can add some to your space and make your room look completely different and new. You can choose wallpaper with personality to really make an impact, including flamingos, flowers and even animals. Have fun with it and really put a mark on the house.
An Accent Wall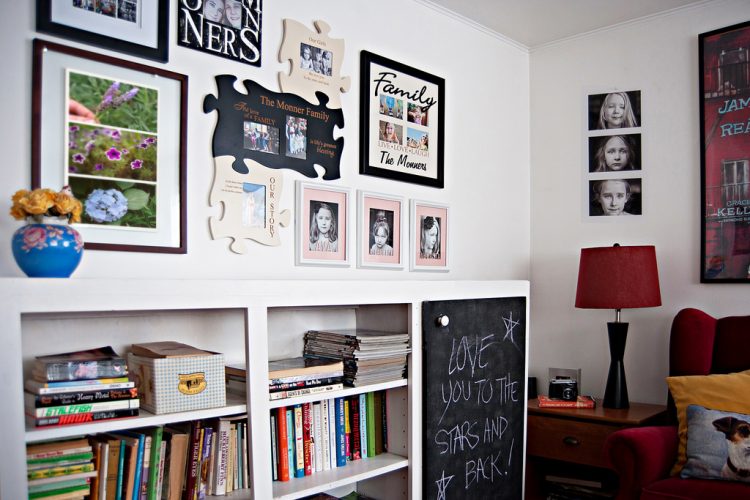 Image Source: Flickr
An accent wall is basically a wall that stands out because you choose to do something different to 1 of the 4 walls in a room. You can do this in many ways, with wallpaper, reclaimed wood, a stack of floating shelves and even a gallery wall. You create an eye-catching falling point that makes your room so much more special.
Paint Your Cabinets and Change Hardware
Image Source: Pexels
As much as we'd all like to completely gut a kitchen and build it from scratch, the expense of it all makes this a hard thing to do if you are hurting in your wallet. But you don't have to do all that to freshen up your kitchen. All you have to do change up your cabinets with a lick of paint and some new handles or knobs. Strip them of all the hardware, sand them down and choose a great paint color and finish. Just like that, you have a different kitchen!
Pretty Storage
Image Source: Wikimedia
Storage is one of the most important parts of a home, but sometimes it isn't the prettiest. Nowadays, thanks to brands like Ikea, you can get really great storage that adds beauty to your space. Thinks like stylish baskets for blankets, and floating shelves make a huge impact without requiring much.
A home transformation doesn't have to set you back thousands if you do some clever changes, tweaks and creative editing on certain pieces and rooms. Also many of these changes can be done in less than a day, so you could be living in a different space within hours! But here's the thing: whether you're doing a huge renovation or just making minor changes, do your research to make sure the time and money you spend (even if it's a little) doesn't end up being a waste.
Featured Image Source: Pixabay