Decorating is an adventure. Or at least, it should be. It is a way of expressing yourself via the most personal possession you own: your home. Even if it is a cookie-cutter row house architecturally identical to every other row house on the block, it should still look distinctive and unique.
We are social creatures, and therefore conformists by nature. It is an evolutionary imperative to follow the crowd. Failure to do so is a detriment when hunted by predators. And that is not the only impediment to out of box thinking.
We each have personal histories to overcome. We decorate the way our parents decorated, who also followed the patterns of their parents. We are also convinced that there are decorating rules that we have to learn and follow. So we shelter behind those rules, afraid to step outside of our socially, as well as self-imposed boxes.
The first step to your own personal decorating revolution is throwing away the rule book. The book written by society–and even the one written by your family–is holding you back. It's time to write your own. Start here:
Give It the Business
Image Source: Flickr
Have you ever sat in a bespoke waiting room or business office and wondered how you could get that look and feel in your own home? Many companies take the decor of their public spaces quite seriously. They have their own in-house designers. And they source their furnishings from providers that don't usually cater to consumers.
If you are after the corporate cozy fusion found in certain Bernhardt Furniture collections, you can find it online far more conveniently than you can at a local retail outlet. You don't have to answer to anyone. If you like that particular look and feel (and many do), you should integrate it into your home.
Start with a White Canvas
Image Source: Maxpixel
One of the rules you may want to ignore has to do with using white as your primary color. Perhaps this is good advice if you have pets and kids. However, even with pets and kids, there are ways to make white work. Pets and kids can be a challenge to any decor. So you always have to select styles and fabrics with care.
White should not be ignored as a furniture color. It is rather dramatic in certain situations. It is not the absence of color, but the presence of all colors. White as a base is the perfect canvas to make other colors pop. Because white is your base, you can use any colors and any combination of colors. A white canvas makes it safer and easier to experiment with color. You can get outside of the box by getting over your fear of white.
Break Through the Glass Ceiling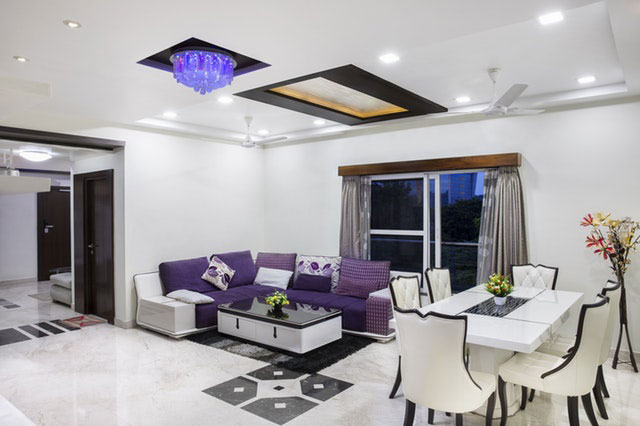 Image Source: Pexels
Before you declare your decoration done, look up and take stock of that untouched and unloved ceiling. If you are not lucky enough to have cathedral ceilings, there are still things you can do to raise the roof. Depending on the structure, you might be able to remove the ceiling entirely and go with exposed beams. That is one of the more dramatic elements of a log cabin.
Ceilings can also be decorated with something as simple as light fixtures. Chandeliers are one of the oldest forms of ceiling decor. You can also use the ceiling as a canvas for color. A colorful ceiling in a white room really stands out.
Leave Room for Humans
Image Source: Pixabay
When decorating a room, one of the biggest mistakes people make is to overfill the space with furniture so much so that there is little space left for humans to move around. Stop looking at empty spaces as an opportunity to furnish. Rather, see it as an opportunity for a person to move around, or just simply appreciate.
If you want to make a small space seem bigger, don't over stuff it with furniture. A chair here and a side-table there can make a great sitting area for reading or listening to music. It is not about the amount of furniture, but the choice of furniture.
Make your next decorating adventure something to remember by giving your living room the business treatment. Don't be afraid of white. Remember to look up. And make empty space a part of the plan.