Whether you're a homeowner or renting a property, everyone experiences that same, nagging sensation from time to time: the place needs sprucing up. But before you completely redecorate, take a quick look at these easy-to-overlook home improvement ideas.
With a combination of creativity, a dash of DIY, and some outside of the box thinking, you could be well on your way to a fresh, spacious, and cost-effective home in next to no time.
The DIY home improvement ideas are especially going to be super helpful because firstly DIY methods create an exhilarating experience for you as you put in the sheer effort and personal care in the crafting of amazing decors. Secondly, they require a minimum investment that maintains your budget so it'll save you money as well.
There are some other modern home improvement ideas as well that you can apply to redo the interior décor of your house and give it a new look. Even the slightest house renovations are capable of making your home look completely different and unique giving you a feeling of novelty.
Some Home Improvement Modern Ideas are Given Below
1. Distressed Furniture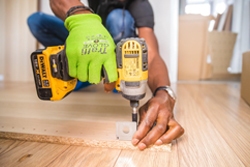 Simple home improvement ideas include fixing and maintaining your furniture. If you're looking to add a little character to your home, it can be achieved at a wonderfully reassuring price – and a little elbow grease to boot. Distressing wooden furniture is simple, and you don't need to hand over a wad of cash at your local B&Q to get the materials you need to do it.
One of the DIY home improvement ideas on a budget suggest that if you don't own any furniture right now, search on the likes of Gumtree and Facebook Market Place for local items. You could create eye-catching, original furniture – while avoiding a costly trip to mass manufacturers like Ikea.
---
2. New Lighting
If you've ever dedicated an entire weekend or two to decorate for your home improvement only to find that your freshly painted walls haven't quite created the desired effect – then consider the lighting setup as it is one of the most popular cheap home improvement ideas that gives a bright and vibrant feeling.
It's so easy to forget that lights can be moved; dimmer switches can get installed and even entirely new systems built-in are available at a pretty reasonable cost. There's also a whole host of floor and table lamp options, LEDs, and more which can enhance any room without you even having to redecorate.
---
3. Loft Conversions
There just had to be a more costly option in here somewhere, didn't there? And it's the cost that makes a loft conversion far easier to overlook, over time. Plus, the loft is all tucked away, otherwise never to be seen. But think of all that extra space – whether it's a new room or extra storage – the option is there to add either or even both.
A cheaper alternative to a full loft conversion, if the budget is completely impractical right now. Is the award-winning loft boarding service from Instaloft. This will give you an entirely new room to play with, and free up plenty of space elsewhere.
---
4. Consider Carpet Tiles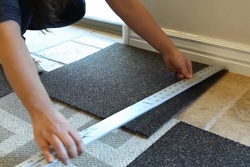 Bear with me on this one – I'm well aware that carpet tiles come with a reputation! But essentially this is why they're so often overlooked. In the same way that people still become a touch sceptical. When faced with the idea of uPVC windows, carpet tiles have a history of low quality. But this is why the carpet tile aficionados have been hard at work creating a better product.
Modern carpet tiles are ideal for homes with young children, as stains can be easily dealt with by removing. And replacing individual tiles – as opposed to seeing your luxury carpet ruined.
---
5. Energy-Saving Options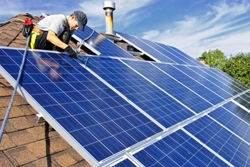 Is switching your energy supplier a home improvement? Well, if it gave you more money to spend on the home, or on the people in the home, then yes! New homeowners in particular often miss this simple, but effective trick when they move in. (Of course, there's plenty more to sort out at this hectic time!).
Nonetheless, reducing your energy bills, or even installing a dishwasher to save on water, can both put a little extra money in your pocket. Plus, you can put these savings towards all the other home improvements you may have missed along the way! Therefore, such energy efficient home improvement ideas are a blessing that create a win-win situation.
---
6. Refresh Your Rooms With Paint
While you brainstorm about some unique home improvement ideas, painting your rooms' walls can prove to be a great plan in order to revive the aesthetic appeal of your house. There are many home improvement paint ideas and guides that give clear and step-by-step instructions which make it super easy for homeowners to paint walls conveniently like a pro.
It's again an amazing way to save up your money that you would have spent otherwise on hiring painting service providers. With the right DIY technique, you can paint your rooms' walls and get the desired effect making your house look good as new. 
---
7. DIY Your Bathroom Décor
With hundreds of home improvement bathroom ideas out there. One might get flustered while selecting the right décor idea and the suitable DIY technique to pull that idea off. Don't worry; you can always start with small changes. Firstly paint your old bathroom cabinets, organize the stuff inside the drawers. And keep the towels in a specific order inside the cabinets or hang them by installing towel holders. 
You can paint spare jars yourself and use them to keep your toothbrush, toothpaste, nail cutter, scrunchies, and many other useful things. Similarly, you can keep small indoor plants on the bathroom cabinets to give a refreshing vibe too. These small changes can prove to be quite impactful and impressive making your bathroom look neat and tidy.
---
8. Update Kitchen Cabinets by Giving Flawless Touches
Upgrading the whole kitchen at once can become quite a hassle but with unique and easy DIY kitchen home improvement ideas. You can update your kitchen especially the cabinets. There are many ways of changing the whole theme and appeal of your kitchen by simply touching up the kitchen cabinets.
One of the best home improvement kitchen ideas includes adding lightning to your upper cabinets.  Lightning is quite in trend currently and takes the number one spot in modern décor ideas. Setting up lights in the cabinet interior will certainly brighten up your kitchen.  Another easy trick to get completely novel kitchen cabinets would be using wallpaper. Putting the wallpaper that fits your taste on the kitchen cabinets would enliven the appeal of the whole kitchen overall.
---
9. Install an Eco-Friendly Insulation Layer for Better Health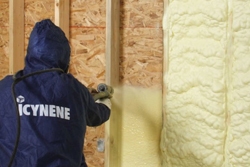 When it comes to remodeling your house, installing an eco-friendly layer for insulation is a must. Eco-friendly materials last long and create safe and healthy homes as compared to fiberglass. Which is proven to be injurious to health.
Eco-friendly solutions create energy-efficient homes and provide great heating and cooling insulation which saves money in the long run. Hence, it is a one-time investment. Sheep's wool, recycled cotton and denim, cellulose, and polystyrene, etc are some of the eco-friendly materials that are known to be best for healthy insulation. They are a bit expensive but worth every penny. Therefore, remember to install eco-friendly layer for your own good.
---
10. Get a Garden Full of Plants and Flowers
Everyone wishes to have a beautiful garden that is full of lush greenery. And flowers as it increases the aesthetic appeal and attractiveness of a house. You can grow a garden full of plants and beautiful flowers easily without spending any huge amount of money. There are many ways through which you can get cheap plants for your garden. You can use Facebook Marketplace, visit yard sales, or garden clubs to find plants that are cheap yet rare in species. 
---