Even as young men dads are pre-programmed to be organized and adaptable. Is it any wonder the Boy Scout motto is "Be Prepared" to travel for father's day? Our fathers deserve great reverence and respect and there is no better day to demonstrate those feelings than on Father's Day, which falls on June 20th this year.
Children look to their fathers to help them find their wings and fly. While instinctively it is mothers who try to keep their children free from harm, it is the dads who say – it's okay to get a little bit dirty. And there is nothing more wonderful than boys who always look up to their daddy. A father's bond with his children instills a sense of adventure, while even just the sound of his voice can make them feel at home.
Now that people are moving into a post pandemic reality it is time to take that greatly anticipated, and much awaited, long put off, trip to see dad. Sure, he may have seemed quite happy with phone calls, for the past year, but seeing you in person is what he really wants. So, how you can travel safely now, it depends upon you!!
Getting There Safely
Dad might live four blocks or 4,000 miles away. Regardless, now that the country is lifting pandemic restrictions. It's time to get the car on the road again and head in his direction. You may also use best fords for long trips. And here's how you can also connect to your office and colleagues while you are traveling. However, be sure to make dad proud by being fully prepared for the trip!
1) Research all Existing Covid 19 Guidelines
If you're planning a trip to other states, get acquainted with the restrictions you might encounter at potential stopping points.
---
2) Brush up on Your Car Insurance Policy
What does your coverage look like now? Are you putting on more miles now that your work condition has changed from remote to on site? Are you covered properly and fully to travel for father's day? Contact Freeway Insurance for peace of mind and all the coverage you'll need to be road ready.
---
3) Get Ready for all the Right Guidebooks
While we would like to believe that our GPS can get us anywhere without interruption that simply isn't the case. Guidebooks and paper maps are a good fallback for those times when cell service fails.
---
4) Pack the Essentials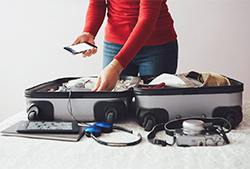 Starting off on a road trip is super exciting – until someone gets hungry and there is nowhere to stop and get food, for miles. Grab the cooler and pack those favorite drinks, water, healthy snacks, fruit, and energy bars. Moreover you should save money while you are on travelling. Add to your stash, bug spray, sunscreen, extra masks, hand sanitizer, and a first aid kit, for those unforeseen road challenges which frequently occur.
---
5) Bring Along Your Favorite Tunes
Relying on the radio, especially in remote areas, could lead to many miles of traveling in silence. Music has a way of lifting spirits and making the car ride seem much shorter.
---
6) Get Your Car Tuned Up
After a year of isolation, it is understandable that many people forgot the necessity of keeping their vehicles in good working condition, especially when embarking on a road trip. Get the oil changed, tire pressure checked, fluids topped off, windshield wipers replaced, if necessary, and check that all light systems are in working order, from turn signals to headlamps, and brake lights, which could need new bulbs.
---
Father's Day Activities
Once you are at dad's house, let him know how special he is by coordinating a pre-planned event.
1. Go Fishing
There aren't many dads out there who don't love an opportunity to go fishing. Travel to the nearest fishing hole, break out the poles, and drink in the serenity of the scenery, and the joy of the activity shared. At the end you can enjoy awesome fishing trip.
---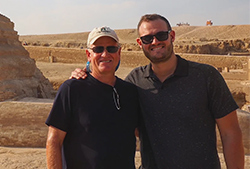 2. Visit a Historic Monument
Virtually every city in the nation boasts some type of historical monument. Do some research and plan an educational, fun day.
---
3. Play Golf
A long time favorite of fathers everywhere, spending a day on the greens is a terrific bonding opportunity for you and dad/superhero.
---
4. Pick a Project
Chances are good that there is something which needs to be fixed, added to, or modified in dad's home. Travel for father's day for dad's fixit assistant and offer up those extra hands which are often needed, but not always available.
---
5. Play old Fashioned Catch in the Backyard
Nothing will bring back the feeling of the 'good ole days' quicker than a simple game of catch with dad.
---
6. Get Out to a Ballgame
Now that things are getting back to normal, it's time to grab some tickets to a ballgame, face-stuff a giant hot dog, and cheer on the home team.
---
7. Go Bowling
Chances are dad has not been bowling in ages. Now is the time to brush off the dusty old bowling ball, and head to the lanes.
---
8. Build Something Together
A birdhouse, a doghouse, a small table, or bench – if dad has a dedicated workshop, and loves building things, the time spent together, creating a masterpiece, will be worth its weight in gold.
---
Conclusion
As everyone emerges from their quarantine cocoon, it's fun and exciting to think about all of the adventure yet to be experienced. Before setting off on your trip, be proactively safe, and employ the necessary tips and tricks that are sure to make dad proud.