TV shopping can be one heck of a ride even to the most experienced TV shopper. Additional features, functionalities, designs, and competitive pricing make it challenging to find the best match for your home or office. Manufacturers are on their toes to improve customers' viewing experience. As well as your kid's tv experience on how much they spend on it. As such, what you deemed as the latest some months ago might no longer be the trend in the TV world. So, sit back, relax, and let smart tv guide help you to navigate this boisterous industry.
Of course, that doesn't imply that you should replace your smart TV regularly, even if you receive a fat paycheck. While you may be new to such smart appliances, you don't have to empty your life savings to get an ultra-high-end smart TV. Most televisions out there offer a huge bang for your bucks. However, you do need a latest model that can support future technologies as well. That is why, in this Smart TV guide, we'll tell you all the important things you need to know in order to make a stellar purchase. Get educated and buy yourself a Smart TV that doesn't rip you off with confusing acronyms!
Why Do you Need a Smart HD TV?
Why do you need a newer TV model? The answer is simple – the viewing experience. You need immersive entertainment where images come alive. But that is not all that smart tv have to offer. You can connect to the internet and enjoying various streaming services, like Netflix, Amazon Prime, Hulu, and YouTube. Stream amazing songs and movies from your service provider all with the click of a button. How easier can that get? Smart-TVs are the real deal. Most of them come pre-installed with different apps and programs for your entertainment.
Most TVs in the market today are Smart TVs. It has become an industry standard to have built-in Wi-Fi for streaming services and playing video games, etc. You'll rarely find a "dumb" TV in the market anymore. However, a smart TV means smart features which means increased price tag. Don't get lured in with the promise of numerous features. Firstly, the best thing to do is to figure out which features fit you the best according to your requirement and lifestyle. Then, choose a smart TV based off that.
The 5 Things to Consider Before Buying a Smart Led TV
Before hitting the market, make sure you know what you're searching for. Keep the following tips about Smart TVs and desirable features in mind while shopping.
1. Don't Buy anything Less or More than A 4K Resolution
Your smart TV comes with a specific dimension, which you will see on its box. This "resolution" specifies the size of your set in terms of length and width. But that is just on the surface. The term resolution refers to the number of pixels that make up the screen of your TV. It also determines the image quality you will get, alongside other components like high dynamic range (HDR) and colour depth. Your smart TV should also cater to the interior design element of your residential or office space. As a rule of thumb, the least resolution size for your appliance should be 40 inches. As such, it shouldn't compromise to smart tv guide of your viewing experience.
You'll find many smart TV models in the market with HD, Ultra HD and 8K Resolution. HD refers to 720p and 1080p sets. This is the least good quality screen out there. It is better to avoid them. Ultra HD means 4K resolution and is the best quality resolution in the market today. Most Smart TVs come with this resolution as it has become a basic standard. Additionally, you should avoid 8K resolution TVs. You might be asking why, when 8K would definitely be better than 4K.
The answer is yes, 8K does provide a better image quality than 4K however, there are not many TV shows and movies available in this format for you to watch yet. It is great for future investment. But if you buy it now, you won't be able to enjoy it. Not to mention, it's likely to cause a dent in your wallet too as it is pretty expensive.
---
2. TV High-Quality Display Options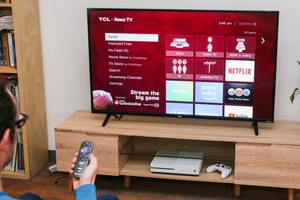 Which would you prefer: an LED display or an organic light-emitting diode (OLED) display? What distinguishes one from the other? As opposed to LED displays, OLED displays have individual backlights that produce sharper contrasts and more immersive colour depths. Additionally, OLED TVs are sleeker and pricier than LED TVs. They offer you excellent value for your money.
Furthermore, there are various formats of HDR available in the industry. As mentioned earlier, HDR stands for High-dynamic Range. Basically, it delivers more colors, present better contrast and make the image pop in your TV. It is also responsible for increased brightness levels. HDR is the magic touch that makes the videos truly come alive in your TV watching experience. Look for HDR10 when buying a Smart TV. Dolby Vision is the one who produced HDR10, an industry leading format supported by most TVs. However, there are other HDR formats developed by various companies that are not so mainstream and up-to-the-mark yet.
---
3. Setting Up Your Smart TV
When it comes to setting up your smart TV, you have two choices. You can either place it directly on a unique media stand or mount it on the wall. The latter is ideal if you are concerned about the footprint your appliance would take on the floor or a specific design theme that might be ruined in the process. Likewise, note that your configuration needs to cater to other peripheral devices, like sound systems, gaming units, DVD and hard drive recorders. With all these components in place, you can enjoy immersive entertainment on the go.
---
4. Look for More HDMI Ports
HDMI ports basically refers to the USB slots in the back of the screen. This is one of the most common mistakes people make when shopping for a Smart TV. Even though a smart TV guide never fails to mention this, people still forget to check for HDMI ports. You need a TV set that has at least four ports. Consider this, one for Chromecast, one for the Soundbar and another for a gaming console, two if you want to play multiplayer video games. However, often TVs only have 1 or 2 HDMI inputs, which limits the experience of having a Smart TV.
---
5. Don't Forget to Buy a Sound Bar
Even if it's a Smart TV, chances are it is going to have a terrible audio. The reason behind this is simple. Since most Smart TVs are made thinner to appeal to the sleek aesthetic style, there isn't enough room for good quality built-in speakers. To remedy this, you can either buy a complementary sound system or you can get a Sound bar. The disadvantage to buying an elaborate speaker system is that it'll be too big, might not fit in your living room and will cost a lot of money. On the other hand, a Sound bar is relatively smaller and portable. Not to mention, with just $300 you can improve the audio quality of your new Smart TV tenfold.
---
Conclusion
To conclude, there are numerous types and models of Smart TVs in the market. All appealing to you with flashy numbers and acronyms plastered all over them. However, you need to be a conscious consumer and determine whether you need all those extra specs or not. To help you, we've listed the most important features of a smart TV you should never compromise in this quick Smart TV guide. So, happy shopping!
---