Caring for a new baby is hard: between feeding and choosing the diapers for new baby's, there's little time for parents to rest. Everyone's getting older, as well. The average age of new mothers in the U.S. is now 26 years (up from 23 in 1994). And the average age of new mothers in some other developed countries reaches up to 30 years and beyond. New fathers in the U.S. are even older, with a median age of 31 years. While a few years might not seem like a big deal, those years contribute to the normal wear and tear of the body. Especially the spine making back pain a very real and very common ailment for new parents in populations around the world. Keep reading to learn how new parents can avoid back pain.
After all, new parents do a lot of lifting, pulling and twisting, adding strain to a back. That hasn't had adequate time to repair, renew and re energize itself during a good night's sleep. Add in the lowered mental acuity that also results from sleep deprivation. And it's not hard to understand why new parents lack the judgement. As well as the energy, to protect their fragile backs. That's why in this article, we have some expert tips for noob parents to maintain their health, relieve back pains and also do a good job at raising the new born baby. Keep reading to learn how new parents can avoid back pain.
1. Lift Correctly
The average newborn weighs 7.5 pounds and is just going to grow from there. To balance the extra weight, new parents need to lift their babies using their legs and not their backs. Instead of bending down to pick up a crying baby, it is better to squat. Squatting down when picking up a baby protects the discs in the spine. It keeps them aligned in a vertical manner and decreases the risk of injury. For example, the spinal discs are at a less risk of moving out of place and tearing or rupturing.
---
2. Hold Correctly
A new parent must also learn how to hold and carry a baby, in a way that balances its weight. So that some of the parent's strongest muscles (like those in the legs and core) absorb the additional force of the baby's body. And the parent's spine is not compressed or overburdened. Swaddling your baby can also be very helpful for parents as well as new baby. A lot of the time, parents will carry their newborns around in a car seat. It's ideal for parents to use both their hands when doing this. Cradle the car seat so that it and the baby's weight are close to their body's midline.
When a two-handled hold isn't possible, parents should squat down and pass an arm through the handle of the carseat, twisting that hand so that it can grasp the car seat's base. Only then should they rise and begin to carry their load. The key to holding a baby is keeping its weight against strong core muscles and maintaining a straight posture so that the back and shoulders are not overly strained. A baby carrier can help immensely in this case. It ensures that the baby's weight is equally divided, mitigating the risk of certain muscle strains and injury.
---
3. Exercise
Firstly you should be aware of the benefits of doing exercise on regular basis. Of course, strengthening all their muscles can help new parents avoid back pain, as well. Conditioned muscles are less prone to injury and better able to withstand the added stress of a baby's weight and all the lifting and carrying that goes along with being a parent!
New moms should start exercising and getting their shape back as soon as they can. Get your doctor's approval and start exercising right now! It is not just about keeping a slender shape. Post-partum exercises focus on reliving nine months of pressure from your back. There are specific workout routines and physical therapy for new moms as well as new dads. For example, your doctor may prescribe you traction, a form of exercises that includes pulling the limbs in order to stretch the spine. It is great for alleviating back pain for a temporary period. Your husband can help you do this around the house.
Moreover, Pilates and Yoga are great yet comfortable exercises that new moms can try. These don't require you to put in extreme effort. You merely have to stretch various parts of your body. One simple stretch that you can do to relieve back pain is to stand up taller. Place your feet on the ground and without arching your back, lift yourself up. Sort of like growing and inch taller. Hold this position for a few seconds while inhaling and exhaling deeply. You will observe that it stretches your spine and decompresses the nerves in your back, instantly relieving pain.
---
4. Check Posture
Slouching puts strain on muscles. When stooped over, the body has to work hard just to keep itself balanced, engaging muscles that would be better utilized for other purposes. And how the mattresses and sleeping positions can play important role for stopping the intense back pain. New parents should be mindful of remaining upright, with shoulders back and core muscles tightened. So that the spine is aligned and able to function properly.
Another time when new mother should be mindful about their posture is while breastfeeding. Always make sure you sit on a chair or sofa that has a back support. Rest your back along it and bring the baby closer to your body rather than bending over. It's one of the most common mistakes breastfeeding mothers make. You can use pillows to hold the baby up higher.
Furthermore, you should do some shoulder rolls and shoulder blade squeezes before and after breastfeeding. It preps the back for breastfeeding as well as relive instant back pain.
---
5. Seek Therapy When Necessary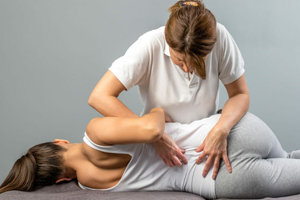 Unfortunately, even with careful attention to form, many new parents will still experience back pain at some point. When that happens, it's important that they listen to their bodies and respond immediately. Over the counter pain medications can help reduce inflammation and alleviate pain, as can massage and heat and/or cold treatments. Furthermore, To avoid the back pain issues, parents can turn to physical therapy. For strengthen their muscles and promote better flexibility within the body or other therapies (such as those offered at medical clinics like ThriveMD). Which use stem cells to repair and regenerate damaged back tissue. Acting quickly will help parents resume their normal activities with the least discomfort!
---
6. Invest in Baby Gadgets to make your Life Easier!
There are numerous Gadgets for babies that are designed to facilitate new parents' in everyday life. It is a good idea to invest in them. For example, baby carriers made of soft yet sturdy fabric ensure equal weight distribution and prevent chaffing. Strollers are ideal for moving the baby around without continuously holding him/her up. Portable high-chairs are light-weight, with removable feeding tray – making it significantly easier to lift and place the baby in. Breast pumps for lactating mothers also help reduce breast and back pain. In short, these tech devices can make the new parents life more easier.
---
Conclusion
To conclude, new parents especially new mothers, suffer tremendous back pains in the first five years of childbirth. However, there are certain things they can do to avoid back pain as described in this article. These can help you relive back pain instantly and also prevent serious spinal injuries down the line.