Back Pain Tips
If you aren't getting a good night's sleep, it can have a negative effect on your entire day. Lack of proper sleep can lead to difficulty concentrating at work, heart palpitations, blood pressure issues and other problems. Your bed, pillow, and even your sleeping position can cause back pain if you aren't careful. Here are a few things to keep in mind.
Don't Skimp On the Basics
Image Source: Flickr
Consider how many hours of your life you spend in bed. Now take a look at your mattress. Don't expect a good night's sleep on a sub-par mattress. A premium mattress will last longer, supporting your weight properly and retaining its shape over the years. The key is to find a mattress that is soft enough to be comfortable, but firm enough to support your spine while you sleep. Even if a soft mattress feels wonderful when you first lie down, the lack of support throughout the night could lead to strain on your back muscles by morning. When selecting a pillow, choose one that elevates your head just so that your neck is in proper alignment with your spine. If your head is too high or too low you are bound to wake up with a pain in the neck! Read the label to discover what materials the pillow contains. You can find pillows that curve to hold your neck in the proper position, duck-down or buckwheat hull pillows that mold to fit your head and neck, and even water pillows to keep your head and neck afloat while you sleep.
Position Yourself Accordingly
Image Source: Wikimedia
Choosing the correct sleep position is very important for a good night's sleep and a morning without back pain. The recommended sleep position is on your side, with a pillow between your knees to keep your top leg slightly elevated, and another pillow or two under your head. You don't want too many pillows under your head or your neck will be curved during sleep, leading to discomfort. Allow your body to curve forward slightly into a modified fetal position. This will take pressure off your back and allow you to drift off into a comfortable sleep. Sleeping on your back or stomach is not recommended for the duration of the night because it allows your spine to curve slightly and places a strain on your muscles. If you find you shift into your usual back or stomach sleeping position during sleep, there are ways to accommodate this with pillows as well, to avoid back pain.
Prepare for a Good Night's Rest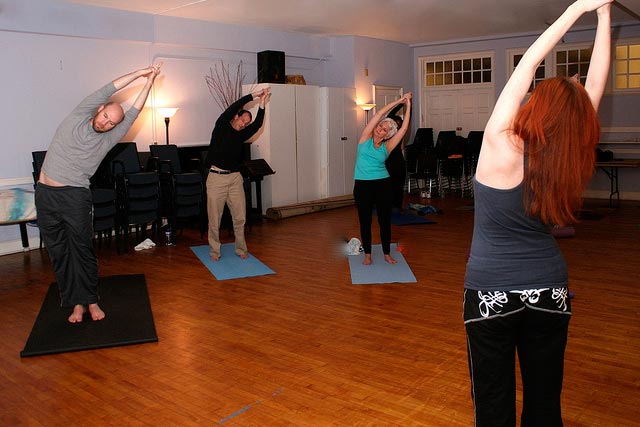 Image Source: Flickr
In order to avoid back pain, you might want to prepare your body for sleep with a few simple exercises. Depending on your activities during the day, you may have already strained your back muscles and they will need a stretch. Try sitting and slowly twisting to look behind you in one direction, then the other. Slowly bend over to touch your toes and hold them for a few seconds before releasing and repeating a few times. One of the best exercises to alleviate back pain is often recommended to pregnant women. You simply lie on the floor with your butt up against the wall and your legs stretched up and resting on the wall. The redistribution of weight centers in your lower back and provides relief from back strain. Building your abdominal muscles also helps to alleviate back pain, by supporting the core of your body. A bit of Pilates or Yoga before bed can go a long way towards a good night's sleep and a fresh wake up in the morning, free of back pain.
Turn Up the Heat
Image Source: Flickr
While you are waiting for your new mattress and pillows to arrive, you might also try some temperature therapy for your aching back. Alternate between hot and cold compresses on the affected area to see if this alleviates your pain. Try taking a hot bath before bed to relax and soothe your aching muscles. The steam will also make you sleepy. Back in the bedroom, make sure you have the thermostat set to slightly lower than your usual daytime room temperature. If you get too hot while sleeping you are more likely to shift positions.
Once you are in bed, don't prop up on your elbow to read or watch TV. This position forces a strain on your neck and back muscles, and you will pay for it in the morning with back pain.
Save
Save
Save
Save
Save
Save
Save
Save