I have been watching Sprout's Wiggly Waffle every morning since it started with my children, going back to work on Monday is going to surely going to mess up my PBS Sprout wake up call, but my husband will continue to watch PBS Sprout each morning with the boys so they can get their Wiggly Waffle fix of the day!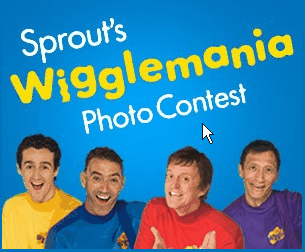 PBS Sprout is having a contest I just had to share with you, it's called Sprout's Wigglemania photo contest. This is only being offered on Facebook, so be sure to become a fan today by clicking here.
Details:
To celebrate The Wiggles moving to Sprout, we want your preschooler to show us their most excited and outrageous wiggly face! Submit a photo for a chance to win some great prizes! Between September 10, 2009 and October 14, 2009, your photo entry will be eligible to receive votes from your fellow Facebook friends! Each week, the photo with the most votes will win a Flip Video Camera. The Grand Prize Winner will be selected by Sprout out of the five weekly winners to win a Nintendo Wii

and a shirt autographed by the Wiggles!
Prize Eligibility:
This contest is open to people at least 18 years old that reside in United States.
So what are you waiting for? Head on over to Sprout's Wigglemania photo contest now or vote for your favorite!! Good Luck!