Guest post written by Sara Gaugl with Savers
The holiday season can mean extra spending and a tighter budget after the New Year. But post-holiday shopping doesn't have to mean breaking the bank. Why not join in on the thrill of thrift?
The increase in donations that thrift stores tend to see during the holiday season means more selection to choose from. With more than 100,000 items on the sales floor at any given time, and 5,000 new items added daily, Savers thrift stores are a mecca for shoppers seeking value-priced treasures.
And in addition to the steals and deals you can already find at Savers, a sale makes it all the better! In honor of the Martin Luther King Jr. holiday, on Monday, January 16, all Savers thrift stores will offer 50 percent off clothing and more.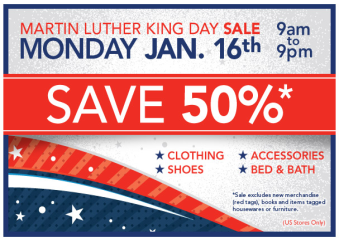 Savers is an international thrift retailer with more than 280 stores across the U.S. and Canada, offering everything from brand name apparel and designer shoes to authentic vintage finds and quality home goods. In addition to great deals, Savers also does great deeds through more than 140 nonprofit partnerships, where Savers pays these organizations for all items donated at the store's Community Donation Centers.
For more information about the sale or Savers in general, visit www.savers.com and Facebook.com/Savers.