Working from home grants you a lot of flexibility and can be lucrative. For many, especially parents with young children, a work-from-home job is the best way to contribute to the family budget without disrupting the family. You can also save money because you don't have to invest in transportation to and from an office or a work wardrobe. If you've been considering working from home, don't assume it's all tedious data-entry work. Some exciting opportunities are profitable and challenging.
1. Stylist
Whether it's a wardrobe stylist or a home stylist, you can now do the job for clients from home. You don't have to visit a home or meet someone in person to get to know them and their likes and dislikes these days. Zoom meetings, questionnaires, photographs, and phone consultations can be used to gather information about a client. Shopping online makes it easy to create a customized look and offers far more options than shopping locally. If you have a knack for home décor or fashion, you can be a professional stylist.
2. Scribe
A scribe is similar to a transcriptionist – you type up notes, recordings, and information for other professionals. While a transcriptionist types up all information from recorded dictation, a scribe may work remotely from recordings or notes. Medical scribes learn the needed jargon, become familiar with medical procedures, and enter patient records and reports. Some companies, like Provider's Choice Scribe Services, offer opportunities for both virtual scribes and on-site scribes. If you ever get tired of working from home, you'll have the experience as a scribe to quickly jump into the same role at a hospital or doctor's office.
3. Arts and Crafts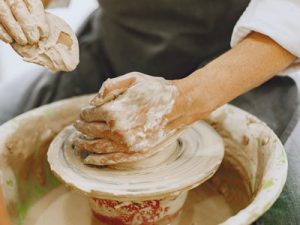 Local artists and crafters used to rely on local craft fairs and shops to sell their products. It was tough to reach a large audience, but that's no longer the case. Internet sites specializing in selling products from a wide range of independent artists are now one of the fastest-growing segments of the work-from-home industry. Research sites like Etsy and Shopify to find the best fit for your artwork, apparel, or crafts. While it may start slow, you can quickly build on a good reputation while reaching an international audience.
4. Tutoring
Over the past few years, millions of students have switched to online learning, and many of those children need tutoring. Consider sharing your knowledge if you're proficient in math, English, or the sciences. While tutoring has traditionally been done in person, the last few years have made students and parents more comfortable with online learning. You can now tutor students halfway across the country with ease.
The workforce is constantly evolving, and more work-at-home opportunities are available every year. Now is the time to jump in and try a few out.