Not many know, but there's a major connection between depression and working from home. The new norm of working from home carries a larger stress load than most out of home jobs. The cause of this depression working from home, in my opinion, is because of the fine line between work and home. I have seen parents who get to leave the house for work. They carry a lot of stress with them. But still are able to leave the house, go to work at a set time, come home at a set time and shut off from work to be the parent.
Someone who works from home never really gets to log in and out of work. Work is always staring you right in the face. From your smartphone to your home computer or laptop, work is always in the home, unless you are a lucky work at home parent who has a separate office off of the "family" part of the home. In that case, maybe your ability to 'shut off' work brain and 'turn on' family brain' is easier.
When you work from home, no matter what you do, there are awesome weeks where you can make a normal month's income in one week. Then you get to have those weeks where income is so low that you may question whether working from home was the right decision. This can result in 'working from home depression'.
How to tackle Depression During Job at Home?
Working from home requires so much self-motivation and dedication. I am always telling people if they are feeling overwhelmed and have nothing too pertinent to take a day off to relax their mind. It's easier to walk away for one night or day of work than work yourself into such a high stress level that your body shuts down, and you can't work for weeks. And if you live alone, away from your family, it can be "working from home isolation depression". Again, this isn't acknowledged by many.
That high feeling of an awesome week can make you so proud, feel so accomplished and help you move forward. The low feeling of a not so good week can really take a toll on your motivational skills. When your work at home income starts going lower, it is also harder to make yourself relax to have fun as a parent. If you feel you are getting depression working from home, then please take some appropriate time off for yourself.
No matter what work at home mood you may be in right now while reading this, remember one positive thing: you have chosen to work from home for a real reason, a reason that is vitally important to you. Maybe you wanted more time with kids, maybe you wanted to simply be your own boss, or better yet, maybe you are just a mom who wanted a job from home. Simply remember the why behind working from home and keep moving forward. Don't allow one bad day or one rest day to get you down for the remainder of your work week. Also, fight depression working from home can cause by a healthy schedule!
How Can Working at Home Actually Cause Depression and Mental Health Problems?
There can be numerous ways how working from home leads to depression and various other mental health issues. Let's take a look at some of them:
---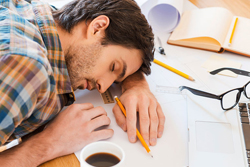 1) Difficulty in Keeping Personal and Professional Life Apart
Those living with families find it hard to manage their professional and personal lives simultaneously. They are always juggling between multiple tasks. The focus also gets disturbed. All this results in a loss of productivity. And when one isn't at their productive best, there's constant pressure from the management as well. All this could take a toll on your mental health. The result could be depression, chronic stress and other related issues and may feel like you are getting depression working from home.
---
2) Back to Back Meetings
Zoom and Skype meetings have proven to be extremely beneficial for companies. However, for employees, attending back to back meetings can get very tiring. There's no time to reflect on things discussed in a meeting or to just take a breather since the next scheduled meeting is ready to be attended.
---
3) No Time to Relax
Many believe that remote working is easy as you get to enjoy the comfort of your home. This, however, is untrue. Working from home can actually prove to be more taxing than an office job. Firstly, there's no time to relax. Even during the break hours, you have to do household chores or cook lunch for yourself or your family. This can make the entire experience even more tiring. Furthermore, it can lead to feelings of depression working from home causes.
---
4) Isolation
Depression from working at home can also be caused by isolation.
Those who live alone can relate to this point. When we go to the office on a routine basis, we get to interact with our peers, colleagues. Some of them turn out to be great friends as well. This sort of forms a support group for them. However, all this socialising becomes very limited when you have to work from home. Thus, a feeling of being isolated or alone kicks in. All day long, they have to do nothing but stare at their computer or mobile screens. This can lead to mental health issues, including depression working from home.
---
5) A Monotonous Routine
When you work from home, you tend to develop a monotonous routine. Right after getting up, the focus is on starting the work and the tasks scheduled for the day. You hardly get to spend any "me time", which is absolutely necessary in today's time and age. Having a monotonous and lethargic routine can greatly impact your productivity and mental health as well.
---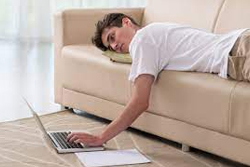 6) Lack of Physical Activities
It has been proven in studies that exercise offers mental health benefits. It can reduce the symptoms of stress and help one live a better lifestyle. However, the work from home culture due to the ongoing pandemic has deprived one of the time to work out in the gym.
Remember the fact that depression when working from home can worsen if you do not pay attention to your physical and mental health in equal measures. Thus, the key is to give it your best to lead a healthier lifestyle, defying all odds.
Here's How to Bounce Back: A Checklist to Support Your Mental Health
It's certainly true that working from can cause depression. Also, the fact that combating depression and anxiety while working from home can be tough cannot be denied either. You can only avoid this if you're willing to change your lifestyle and bring positive changes.
You may experience these feelings of depression working from home:
Feeling isolated, lonely, or disconnected from other people – socially and professionally
Being unable to 'switch off from work.'
Having difficulty staying motivated
Having difficulty prioritising your workload
Feeling uncertain about your progress and whether you're performing okay
Insomnia and sleep problems
How to fight depression when working from home? This is a question many people are asking these days due to the remote working culture being very prevalent. To help combat this, here are some tips to protect your mental health when working from home.
1. Set Up Routine and Structure for Your Workday
Do not make this mistake of getting up just before your signing in time and starting work right away. Make sure to wake up a little early. Take a shower, have a nice cup of coffee and work out for a bit in your home. You do not have to perform hard-core exercises; even warming up can help to freshen up your mind.
After that, check your tasks scheduled and set up your routine based on them. Leave a little room for flexibility. And ensure that you are keeping your break hour free. You should completely shut off from work during the break hour. And avoid doing household chores during the break as well. It's the time for you to relax and unwind. Taking a nap might help. Fight the depression working from home can cause by relaxing properly.
The idea is to structure your entire work day. The better structured it is, the easier you will be able to do it. This is one effective way that can help avoiding depression working from home causes.
---
2. Create a Home Office Space
What most people do is they start working in their bedroom or living room. Doing so is not recommended if you want to work with full dedication, focus, and want to avoid mental health issues while working from home.
The right thing to do here is to create a home office space. Dedicate a corner of your home that's suitable for it. And make sure to use this part only during work hours. This becomes particularly more important if you live with your family and the kids are on a summer break. There will be fewer distractions and disturbances. Thus, you will be able to work with more focus and dedication and avoid depression working from home causes.
---
3. Go for a Walk at Least Once in a Day
Sometimes taking a break from work is not enough. You actually have to do something to break the monotony. You must take the benefits of exercise on regular basis. And the best option for this is to go for a walk. Adopt this habit of going for a walk at least once a day. Hit the nearby with your spouse, partner, roommate or friend and walk for about 30 minutes. If you have a furry friend, taking them to a pet-friendly part can be a great idea.
---
4. Stay Connected with Your Colleagues and Friends
It's right that everyone's fighting their own battle. But, sometimes, support from someone can help a great deal. Talking to your friends or colleagues can make you forget your worries, stress and problems, even for a limited time. So, make an extra effort to stay connected to them, even beyond the work hours. And keep checking on your friends as well. And you must follow the ways to eliminate and reduce the stress. The pandemic has been tough for everyone. And not to forget, dealing with working from home and depression is no less than a challenge. So, who knows a mere text showing some support to someone can become a ray of hope for them.
---
5. Other Helpful Actions for Maintaining Positive Mental Health
In order to cure depression, you must know why working from home causes depression. Once you have identified the root cause, make efforts to eliminate it. Also These healthy habits will remain you active all the day. Additionally, you can follow these helpful actions for maintaining positive mental health:
Work out daily, even for a small duration. It will keep you both physically and mentally fit.
Eat healthy food. Bear in mind that working from home routine can develop unhealthy eating habits. Try and avoid them to stay healthy.
Make a schedule and do your best to stick to it.
Change your lifestyle. Try to sleep early in order to have a restorative sleep.
Take a break from tech gadgets before hitting the bed. Instead, read a book or listen to soothing music.
Stay connected to your loved ones.
In all, it majorly depends on how well you handle the situation. It's okay to break down at times and feel vulnerable. But the real success is picking up the pieces again and staying motivated. So, it's time you fought the depression working from home can cause and get your happiness back!