Smaller-breed dog owners can easily move their pets in carry-on luggage. When you have a Saint Bernard, it's not easy. However, this does not mean you should leave your pet behind, which is something you can stop if you're traveling alone or relocating to a new location. There are a lot of choices for traveling with large dogs, whether you're moving, taking a break, or heading away on business. Here's what you need to learn.
Dogs are part of the family, so of course, you would want to take them with you everywhere you go, even when traveling to other places. With so many pet-friendly accommodations and businesses around the world, it's much easier to travel with big dog breed. 
However, many pet owners may have observed that traveling with a bigger dog breed is more difficult! Especially in winter when you need to keep warm up the dog properly. After all, they are stronger, require bigger cages, and they can't slip into carry-on luggage compared to Chihuahuas or Shih Tzus.
That doesn't mean traveling with big dogs is the hardest thing in the world, though! You must know the ways where a dog can make your life more happier. I'll be showing you helpful tips on how you can travel with big dog breed.
1. Get To Know The Rules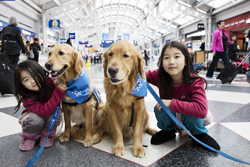 Airlines, as you would expect, have a slew of laws and regulations for traveling with pets. You must read them carefully to avoid having your pet turned away while boarding. Check with your chosen airline to see which dog breeds are permitted aboard. Usually, breeds with snubbed noses are not allowed in the cargo hold. It's because of their facial features. It may be difficult for them to breathe normally due to this arrangement. Pit bulls and other bully breeds could also be prohibited from flying.
---
2. Make an Informed Decision about your Flight.
Look for nonstop flights that don't need any transfers. You can also stop flying during the holidays, when airlines and airports are particularly busy. You would be able to reduce the chances of anything going awry in this manner. If your pet must travel as cargo, keep in mind the weather conditions in your destination. If you're going somewhere hot, try flying early in the morning or late in the night when the temperatures aren't as high. In colder climates, schedule flights during the day, when temperatures are at their warmest. Also, bear in mind that airlines will not allow your pet to travel if the temperature anywhere at location becomes too cold or hot. You'll have to struggle to make alternative arrangements if anything happens.
---
3. Contact your Airline
Many airlines only accommodate just few dogs per flight, please call ahead to ensure that you and your dog will be able to board. As a result, please make reservations for both yourself and your pet simultaneously.
---
4. Take your Dog to the Vet for a Checkup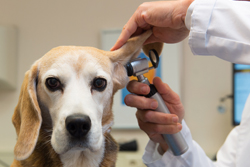 Once your dog has received his ticket, take him to the veterinarian for a health certificate. You can help the dogs with hip problem. It's to make sure the dog is well enough to fly and has all of its immunizations up to date. The certificate has a 30-day expiration date. Both your departure and return would necessitate it. Many airlines need a clean bill of health for your dog to be less than 10 days old. If your travel will last longer than the length of your licence, you will need to arrange a vet appointment. To satisfy the criteria of your return flight, you must do it while on holiday.
---
5. Plan Ahead to Save Hassle
Even preparing a loose itinerary will be helpful in making sure that you and your dog will be comfortable and having fun throughout the trip. You wouldn't want your trip to have any sudden changes due to accommodation or areas not accepting pets!
Speaking of accommodation and tourist attractions, these two need to be planned ahead, as some hotels or hostels aren't as pet-friendly as others. You can do a quick search online to find and reserve your accommodation, provided that it's pet-friendly, and create a plan that includes your dog, may it be picnics in parks, visiting attractions, and the like.
And remember, pet-friendly should mean that the hotel, attraction, airline, or car accepts big dogs! Speaking of airlines, remember that they will have stricter rules when traveling with big dogs, which will require further research and planning.
---
6. Prepare the Right Items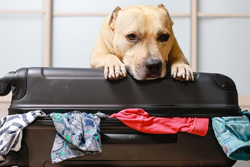 First of all, you carry the main travel gadgets and accessories for long travel. You should pack not only for yourself but your dog, too! He needs to have a canine travel kit, which is great in case of any emergencies or unexpected situations. Here are what you should pack for your furry friend:
1) His vaccination records, along with any medications and vitamins.
2) Collar, leash or no pull dog harness, and dog tags that have your contact details.
3) Grooming supplies such as a dog brush, nail clippers, tweezers, poo bags, scooper, dog brush, and dog shampoo.
4) His favorite toys and treats.
5) His cage and beddings, such as any favorite pads or blankets he uses.
6) Dog food, his bowls, and a pet water bottle useful for keeping him hydrated (you can find these supplies in PetSwag).
7) First aid kit.
---
7. Keep Things Comfortable
Right before the big trip, make sure that your dog gets a lot of exercise, which can help him feel tuckered out and ready to stay calm and rest in the car or plane. This is much better than having to deal with a huge and heavy dog expending his energy jumping around car seats!
Furthermore, since your dog will be spending a few hours in transit to the destination, make it as comfortable as possible. Limit your dog's food intake and feed them smaller portions frequently when on a road trip. If they are in a plane, keep their crate comfy with a lot of security blankets and enough food and water for the duration of the flight. Make sure to keep these tips in mind and you'll be able to enjoy smooth travels and memorable vacations with your dog now!