The home office is perhaps the one spot in your house that needs most organization. You need to maintain its function yet there are numerous office supplies, electronics, files and papers among other office stuff.
Without proper organization, space can easily get cluttered and become dysfunctional. Luckily, organizing your home office is not as complicated as most people think. With a little budget and a few DIY skills, you are good to go.
At The Good Stuff, we are glad to educate you on affordable, clever and straightforward tips. This guide is one of the installments of our 5-part Home Hack Series. Follow these now and transform your home office into an efficient space today.
1.  Use Old Frames to Make Dry Erase Boards
Discover instructions for making dry erase boards here!
2.   Extra Large Cork Board
Cork rolls can be expensive, depending on where you buy them from. Look at this tutorial and learn how to make a very large pin board today. Instead of pricey cork materials, the tutorial employs cheaply available lattice from the local hardware and IKEA cork placemats.
3.  Convert Boring Office Chair with Fabric
Image Source: libreshot
Do you want to transform an old office chair into an attractive yet efficient office equipment? Go for a fabric and color that complements the color and style of your office. This off-the-shelf office chair will change how your office looks.
4.  Storage Boxes for Network Routers
The ordinary office is characterized by electric cables and components cluttered disorderly. You can renovate the look and feel by repurposing decorative paper boxes. These hide away the unsightly and undesirable yet must-have office components.
5.  Hideaway Your Printer in a Storage
Image Source: Flickr
The printer is one office equipment that you cannot do away with. However, this does not mean that it has to obstruct the good style that you deserve. Find a dresser and follow this simple tutorial. When properly done, it hides away the printer but still keeps it functional.
6.  Create a Desk Organizer from Cheap Cardboard
You do not want to spend an arm and a leg in the purchase of coordinated disk accessories. Luckily for you, old cereal boxes and power tubes give you a happy new look and feel. All you need is some paint, glue and scrapbook paper to transform the old items into new accessories.
7.  Make Tags for Your Electrical Cords
Image Source: Wikimedia
Have you plugged in a dozen appliances and electronics to the same extension cable? It can be quite a hustle trying to figure out what cable belongs to what device. Simply add a washi tape around each plug and get rid of the confusion once and for all. Ensure that the ends of the cable are marked with color coordinated tape tags.
8.  Thoughtful Pencil Cups From Soup Cans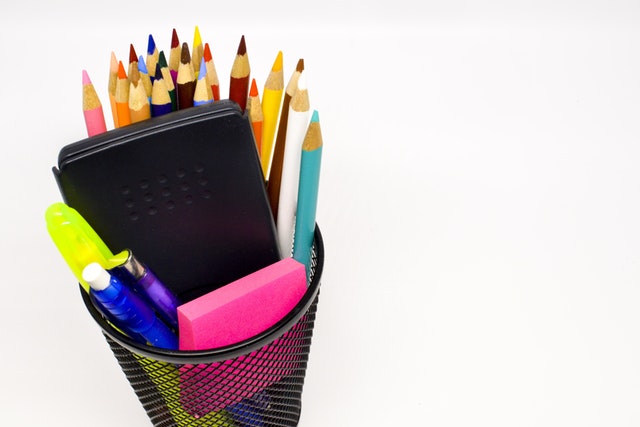 Image Source: Pexels
Do not throw away your soup can! They can come in very handy for your home office. Simply add a thin layer of metallic coating to make the can durable for holding pens, pencils, and crayons among other art supplies. Use your creativity to decorate the coat and secure it on your table.
9.  Construct an Awesome File Cabinet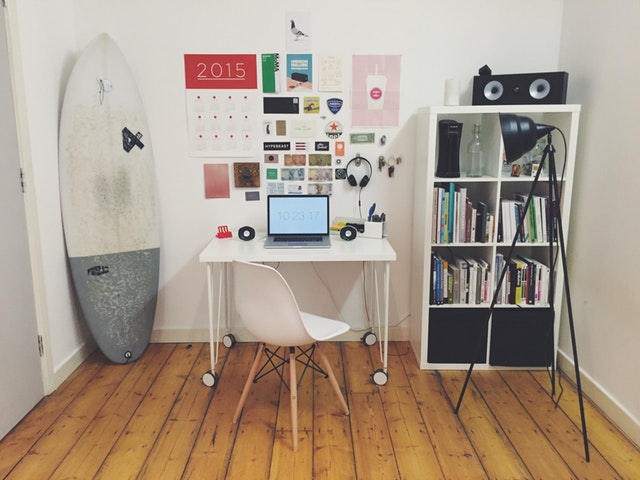 Image Source: Pexels
Who said you must invest in new metallic cabinets for storing files? After all, they are old-fashioned and boring. Go to any thrift store near you and find old yet functional cabinets at a throwaway price. Use your DIY skills to transform these using stencils and paint. The result is an admirable office gem.
10.  Keep Documents in Color Coded Files
With so much use, it is difficult to keep office files well organized. Do not lose yourself trying to figure out a way to label them. Just refer to your primary school days and use color coding to label related files and store them together.
11.  Pretty Boxes of Wood
Reduce the clutter in your home office by corralling small craft and office supplies into dedicated boxes. Inject some color and vibrancy instead of leaving them dull and plain. You can achieve high-end décor and ample storage at the same time.
12.  Construct Wall Pockets
The space above or next to a desk on a wall can be utilized to clear the clutter off the ground. Keep items that you use most and have them sit in a wall-mounted pocket. There are lots of containers that you repurpose for this.
13.  Transform Magazine Files
Do you have a lot of paperwork, newspapers and magazines that have to be stored in your home office? Discover the power of vertical magazine and book files. Tuck these into neat bookcases to make for an appealing visual impression. When you label and decorate these, you will not only keep them in an easy to find place but also help to avoid accidents.
Featured Image Source: Wikimedia