There are many ways in which schools get recognized globally: through the number of exceptional students they produce, the contests they win (both nationally and globally), through the facilities and available learning materials, or through their very own educational framework. An example would be the website of private schools in Singapore, like the Global Indian International School. You will see upon opening their website the core values and philosophies the school uses to provide students with a holistic education.
Online Learning
In the digital age, however, a lot of these schools have started competing with each other through what is called the Massive Online Open Courses (MOOC). Other than filling a gap made available by the rise of the technological age, these MOOCs were created in response to:
Giving full-time employees a chance to go back to school without needing to be physically present in class
Enticing foreign students to take certification classes from them
Providing enthusiastic learners open access to materials for their chosen subject to learn and giving them a platform to participate
At first, MOOCs were created as a learning platform for people who are not enrolled in the school per se but are only enrolled in a subject being offered by the school. But now it has seeped through the normal school curriculum.
Schools around the world like Princeton, Harvard, and Columbia have started including online lectures and exams in their program. Indeed, MOOCs have become an example of how we can still innovate the learning landscape for our students which can be used from middle school up until university education. This also shows that education can adapt to a new kind of demand in learning.
Research has shown that students in an online learning setting performed better in tests:
According to a research done by the SRI International showed that students who were in an online learning condition performed and tested higher than students who received face-to-face instruction. This report, which was funded by the U.S. Department of Education, looked at about a hundred other studies that tested and observed the performance of students in classes that offer online lectures and compared it with classes that are strictly done face-to-face. They saw that those who did their coursework online tested on the 59th percentile on average, while those who attended the in-classroom sets tested on the 50th percentile.
Expecting an increase in demand for online education programs:
Obviously, we should not take the results of the research to mean that online learning is better than face-to-face learning environments. There are concepts still better learned and demonstrated when discussed in class. Rather, let us take it to mean that online conditions, assuming the program is created well, offers certain advantages to both students and teachers.
For instance, students can be given more time to understand the learning material meticulously provided by their learning instructions. They are given more opportunities to collaborate with fellow classmates and the teacher, like creating a forum thread on a certain topic and allowing students to discuss it further even after class.
If you look at the courses available online, a video lasts for about 3 hours. And that time does not include the discussions happening in the forums set up by the instructor. If you compare that with an hour or an hour and a half in a master lecture, it is not surprising why students in an online learning environment did better in tests. Not to mention the fact that they can go back to the video lecture and pause whenever they can. Additionally, there are applications that make it possible for students to download the videos and make the lectures available offline, so they can also access it anywhere they want.
So while we are not saying that a classroom setting may be too inefficient, we might see an increase in demand for online learning tools in the future because of its glaring benefits.
Massive Online Open Courses have always been there: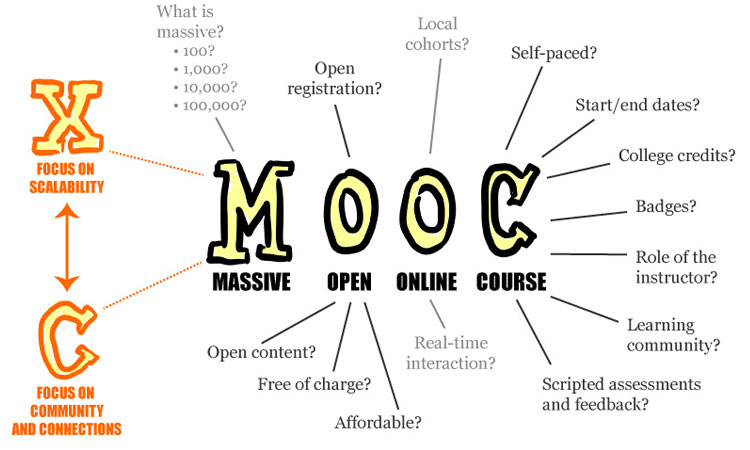 Before online courses were being offered by leading universities around the world, MOOCs have been available for casual learners for a long time now. A website called Coursera was founded in 2012, and has grown to be so popular that other MOOC exclusive websites started popping out like FutureLearn or SDG Academy (an initiative of the Sustainable Development Solutions Network and where the United Nations direct people who want to learn about globalization and climate change).
There are also countless of Youtube channels that offer bite-sized lectures, about 20-minutes on many different topics. The most popular of which is Crash Course which was started by the VlogBrothers, Hank and John Green. From literature, the channel now offers crash courses on Psychology, Biology, Astronomy, Mythology, and more. Others include language classes like Learn French with Vincent, and introduction to philosophy and its relevance to modern society on Philosophy Tube.
Creating a framework to help teachers adapt to these learning innovations:
But for this to work for schools there needs to be a framework that will enable instructors to hold classes and graded recitation. The SRI International have enumerated three different kinds of learning to guide schools when setting up their online programs, these are:
Expository – different digital means of receiving information (video, infographic, podcast, or text)
Active – encouraging students to use online tools to expound on the information given to them
Interactive – allowing them to collaborate with each other by initiating discussions
Currently, a lot of professors have maximized the online tools available to them. They use the Live features on social media to do a Q&A, some would even start a Reddit type AMA where students can start posting questions in their forum thread and discuss with each other. Not to mention the fact that some online materials are available for free, like the books on Project Gutenberg.
Give it a few more years of improving the online system, we might see a future where online means work in tandem with face-to-face instruction almost seamlessly.
Featured Image by FreePik