If you've never been one for traditional weddings and you want to break the mold on your own big day, why not opt for a theme that will add to the wow-factor? Themes are a great way of injecting some life and intrigue into a wedding with an array of possibilities being available.
Whether you want to create an enchanting fairy tale style wedding in winter or you fancy having an al-fresco country styled wedding, we've got some inspiring theme ideas for your big day!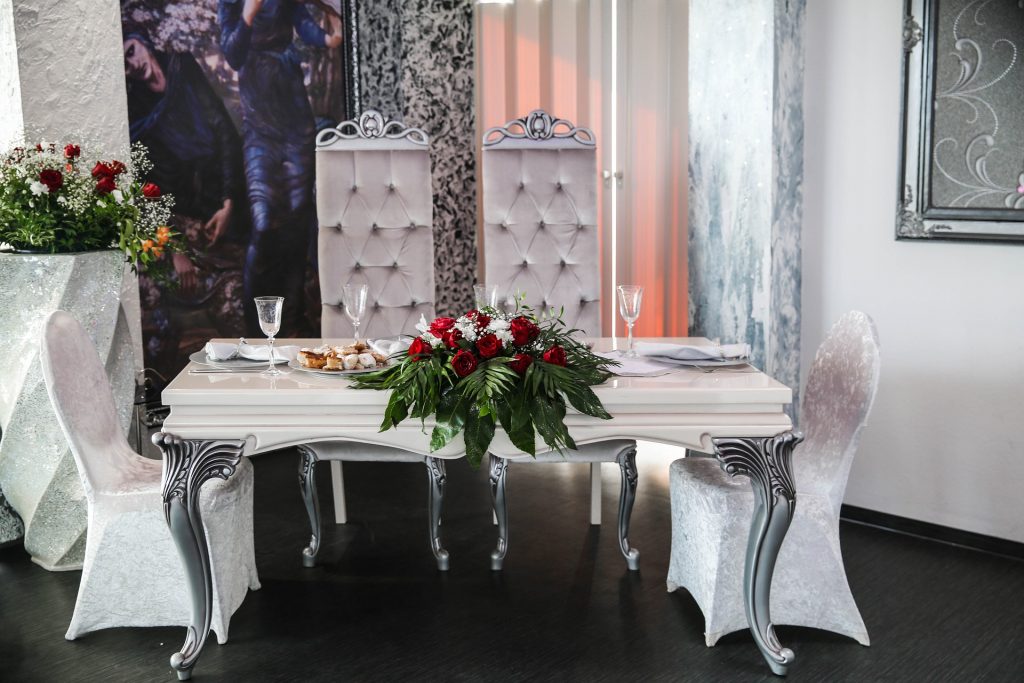 A Medieval Wedding
Having a gothic theme at your wedding can really add to the impact of it, as many medieval locations will offer grandeur and style. With candelabras adorning the tables and with a brooding black, gold and red color scheme, you'll be able to create a theme that is awe-inspiring for you and your guests. You could also add to it with antique furniture, books and even gargoyles, all of which you can pick up in junk or thrift shops, helping you to save yourself money in the process! Elizabethan-style dresses will be ideal and so will roses for the flowers, and when finished off with some haunting cello music, you'll have this theme finished in style!
A Winter Wonderland Wedding
Evoking a feeling of elegance, winter weddings are all about magical, enchanting themes that will have guests and the bride and groom feeling like they've walked onto the set of a fairy tale. With the possibility of snow and with lots of silvers and whites, you can create a theme that is soft, subtle and understated. Or, if you want a winter wedding that has bold touches, opt for big princess dresses from places like PreOwnedWeddingDresses.com and introduce darker colors such as maroons and greens in the bridesmaids' dresses and flowers. Finish with Christmas wreaths, bows, bells and pinecones to decorate your venue.
An Outdoor Wedding
If you've got an outside space that you think will be ideal for your wedding or if you're having a marquee at a local venue, adding to the outdoor feel of your wedding can really help to create a wonderful feel. Think fresh, natural finishes such as hay bales, rustic flowers and wooden furniture, finished off with autumnal colors such as orange and red. You can also add to the ambiance using natural lighting with candles, and why not place fairy lights around the marquee to give that twinkling star effect? Flowing, unfitted dresses will really help to add to this bohemian style wedding theme while country music will finish off the night perfectly.
You could add an even more unique twist to this theme by creating a tea party style, swapping out the rustic furniture for more elegant and ornate pieces and bringing in fresh flowers in jam jars as the table centerpieces. Prosecco is also a refreshing drink that will add to this theme beautifully and is a perfect alternative to champagne when doing the toasts.
Garden Themed Wedding
While this is still an outdoorsy style theme, a garden wedding will differ dramatically from the country style one. Instead of a rustic theme, this style will focus more on pretty, chic touches and is likely to be more low-key (ideal if you're trying to budget without looking like you have)! Opt for simplicity where you can with pots of flowers spread around the location and meadow-style flowers (e.g. daisies and sunflowers) in the bouquet. Enhance with birdcages full of candles, floating flowers in clear jars and even potted herbs, to really add to the rural, garden-inspired theme you are creating.
Whatever your ideas are for creating a theme at your wedding, you need not spend a fortune because it's all in the little details you add. From your choice of flowers to the accessories and table centerpieces you create, there are a number of ways you can bring your chosen theme to life. And, you don't just have to stop there as you can also get the guests dressing up in your theme so it adds to the overall impact. Offer them the choice of wearing costumes or hire some yourself so your guests can get changed at the venue if they wish.
When it comes to wedding themes the possibilities really are endless and all it takes is a little bit of imagination to achieve the wedding of your dreams. Be bold, be adventurous and be creative and you'll really give yourself, and guests, a wedding to remember!
Linda Chambers opted for a themed wedding when she got married last year, but it took her 2 years to plan the big day. She enjoys giving brides-to-be ideas for their own special day and sharing her own insights.