Disclosure: I am receiving compensation and products as a thank you for being a blogger rep for this year's Summer Reading Challenge with Scholastic and Energizer.
The kids and I are signing up for the Scholastic Summer Reading Challenge again this year and are excited to be sharing our journey with you all again. I do hope you will sign up your kids and grand-kids for this fun Summer Reading Challenge because Summer reading really helps keep kids' skills sharp during Summer break from school. This year's Scholastic Summer Reading Challenge theme is "Power Up & Read", Powered by Energizer®.
I have read to my kids since the day they were born, to this day all three still enjoy Mama reading with them before bed. The moment I love the most is when the kids get to that age, which is different for every kid, where they take the book from me and start reading to me. My youngest is six and started pulling the book away for he didn't like how I read the exclamation point sentences, clearly he puts more proper emphasis on the exclamation point than I do.
We received a huge kit from Scholastic and Energizer partnership for this year's Power up and Read Summer Reading Challenge. We have books, awards and so much more to encourage my not-so-willing to read all of the time boys to get reading more this Summer. I do hope to log more minutes reading than last year with the boys specifically as it is difficult to find what makes them intrigued in a book. It looks like a couple of the books we received will fit the bill for helping me reach our goal of reading daily both me-reading-to-them as well as them-reading-to-me.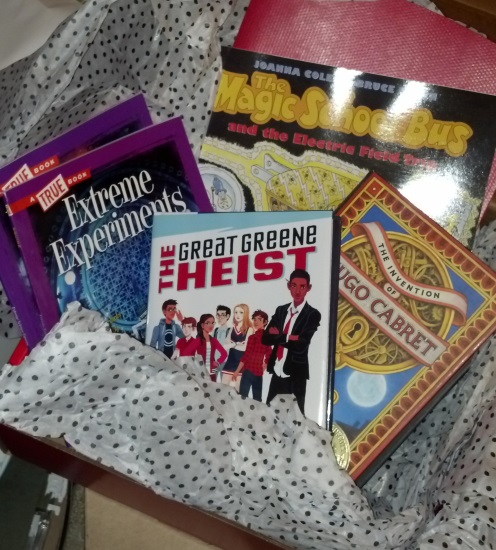 Parenting expert, Maggie McGuire (VP of Scholastic Parents Channel – Scholastic.com) provides tips and book choices for all ages this summer in support of the Scholastic Summer Reading Challenge.  Maggie offers parents unique tips to get kids to "power up & read":
·         Find books that makes kids laugh
·         Introduce kids to STEM and science through reading
·         Ways to get crafty with your kid's favorite summer reads
·         Tips for reading-on-the-go during summer vacation
·         Rainy day reading activities
I will be honest, books that make us laugh really warm our soul at the end of the night before bed, some may say it isn't good to get the kids giggling before bed, but those moments of us reading Books that Make Kids laugh before bed, really is a special memory making moment between the kids and me.
ABOUT THE ENERGIZER INSTANT WIN GAME
Energizer® and Scholastic are partnering to create the "Power the Possibilities" campaign which gives moms the tools they need to unlock their child's talents, fuel their ambitions and set them up for future success. Starting May 4, 2015, parents can buy any specially marked pack of Energizer® brand batteries to scratch for a chance to win one of thousands of prizes that will power discovery and learning.
Prizes include a family trip to New York City, a Scholastic Study Corner Makeover, a tablet with Scholastic apps, a library of Scholastic books and more! Everyone who plays can also download free digital stories for their family.
I am curious what types of books help your kids read more? Do you have giggling kids like mine, or do your kids prefer something a bit more general, serious or real-life like?
Sign up for the Scholastic Summer Reading Challenge
Find more Scholastic Resources to keep your kids reading all summer long!
Learn more about the Energizer® Instant Win Game
Follow @Scholastic on Twitter
Like the Energizer® Bunny on Facebook
#SummerReading
Disclosure: I am receiving compensation and products as a thank you for being a blogger rep for this year's Summer Reading Challenge with Scholastic and Energizer.