When I told my Dad I was heading to see Monster Jam at the DCU Center in MA, I mentioned that Dennis Anderson was going to be there and that he was celebrating 30 years of Grave Digger. My Dad said it was awesome and that he wished he could have gone along because Grave Digger is one of the very first Monster Trucks out there, this is one of the trucks that started this whole Monster Truck scene!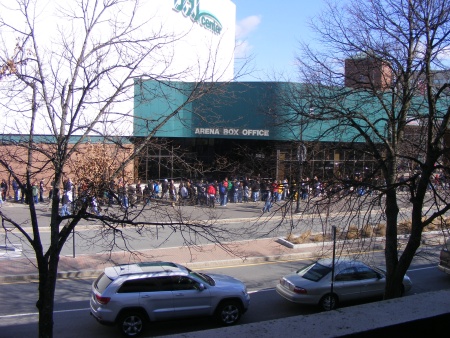 When we arrived at the DCU Center on February 18th, we were amazed by the long line waiting to get into the pit party and were wondering how well our sons would do waiting in such a long line. Luckily the line moved really fast but the lines were even longer waiting to get autographs at the pit party so we just snapped some pics and got up close and personal with the huge monster trucks!
My five year old has been watching Monster Jam on the Speed channel for a long time now, it's something he just happened upon and has loved always. Being the competitive type of boy he is, I was shocked to find out that freestyle matches are really what my son enjoys most! It was a real treat for AJ to see the freestyle competition in real life when we attended the Monster Jam show at the DCU Center.
As a family of two boys who are 3 & 5, we were nervous about whether or not they would be entertained for the pit party plus the duration of the show, but honestly, it was a breeze. Monster Jam did a great job at keeping the crowd, and children, entertained during breaks and intermission. We were even able to see some Motocross competitors do tricks during intermission which ROCKED.
Overall the family had a fabulous time and I can honestly say this is a show we will attend again in the future, but hopefully this time we can bring along our daughter because as of now she doesn't know she missed the show. My daughter has every other weekends with her Dad and so this happened to fall upon a weekend she wasn't with us to attend.
You can see all of the pictures on Happily Blended's Facebook page as well as go ahead and connect with Monster Jam on Facebook to see what other viewers captured of the various shows all over!
Disclosure: I received four family pack tickets to both the pit party and show at the DCU Center, all opinions are that of my own.