Being a mom is easily the most rewarding and the most challenging thing you have ever done. You love, you experience joy, you sacrifice – every day. You live a million ordinary moments…and each one of them combines to make you the Extraordinary mom you are. You might have one child or ten. You might stay home, or maybe you work – but you have something in common with millions of other mothers – You Matter. You are a teacher, a friend, a chauffer, a cook, a craftsman, a doctor, and the best medicine a child could need. You put your family first and yourself last. Your challenge may be potty training, a toddler who throws regular temper tantrums, or something more painful – like balancing the grief of losing your own parent with the raising of your own little ones, or you may be putting on a brave face watching your very own child receive treatment for Leukemia. No matter what your day holds – You Matter.
The Why Moms Matter Project recognizes the beauty and the significance of Mothers. The Why Moms Matter Blog Talk Radio Show will highlight a new mother every week on Fridays at 12:30 Pacific, 2:30 Central. You will hear stories that will make you laugh and make you cry – but every story, every woman, will remind you Why Moms Matter. Each week's featured mom will also be highlighted on www.ExtraordinaryMommy.com as well as www.WhyMomsMatter.com.
Join hosts Josh and Rebecca Unfried of MomFaves and Danielle Smith of ExtraordinaryMommy.com as they uncover the stories that will remind moms they are living Extraordinary lives.
HOW TO NOMINATE A MOM: If you would like to nominate a mom you know with an Extraordinary story, go to www.WhyMomsMatter.com. Nominated moms do not need to be bloggers, nor do they have to be 'young' mothers. Grandmothers have fantastic stories as well.
ABOUT THE CREATORS: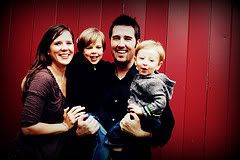 Rebecca and Josh Unfried are proud parents and the founders of MomFaves.com, the new mom word-of-mouth network™ that reveals what moms love most.
Josh and Rebecca created MomFaves to honor Josh's mom who died from cancer in 2004 and to empower moms in every neighborhood across the country with an easy and fun way to share and discover their favorite things together. As a result, moms have a free resource to rely and depend on daily for trusted mom recommendations.
The moms of MomFaves.com are in a position to spark a word-of-mouth revolution. What they are doing will not go unnoticed. They are building a universal brand for moms, a modern mother's seal of approval behind the things they love most.
Danielle Smith is a wife and Mommy to two young children. In her 'free time', she balances work as the founder and primary author of ExtraordinaryMommy.com as well as co-anchoring the new Blog Talk Radio Show – Why Moms Matter. She is also the Editor for StLouisKids.com and is a regular contributor to FamilyFoodies.com.
ExtraordinaryMommy.com is a website designed to remind moms of the Extraordinary work they do daily while loving and raising their children. The site provides resources as well a regular blog chronicling life as a Mommy – as Danielle sees it.
In her previous life (aka before children) Danielle was a Television News Anchor and Reporter as well as a Wedding Planner. Therefore, much of her life's experiences have been in writing, talking and listening. Both career paths have served to make her the author, organizer, social media addict and right-brained, creative girl she is now.
Recently mentioned in USA Today for her relationship with children's publisher, Mackinac Island Press, much of Danielle's energy is focused on teaching and sharing gratitude and 'giving back'. Through her Give Good, Get Good Project, Danielle hopes to help parents learn new ways to make a difference, and by example, to teach their children one of the most important traits they can possess – a kind and giving heart.