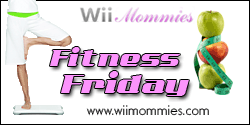 It's that time of the week again .. Fitness Friday brought to you by Wii Mommies!
Oh yeah I exercised and yet I hopped on the scale hoping to see a simple pound or two of weight loss when I noticed the scale was tipping four pounds heavier. Now I can't get discouraged because if age is only a number then that only  means weight is simply a number! Right? I have been known to gain a little bit of weight or stay the same yet go down in clothing size and whether it be just the boost of self confidence from knowing I am exercising daily or the actuality that I am losing some mid section weight, I feel thinner and I stand up straighter feeling that way!
One fact many don't know about me, unless they have seen me in person or read it at one time or another is that I have a large chest, yes way too large for my body size. I blame this on nursing three children and never going back to my nice C cup that I miss a lot! So one area I really hope to lose weight on is my chest, it's hard to stand up straight with such heaviness coming from my chest area. I am sure many with larger than normal chests can relate!
Day 5 – Rest Day


Day 6 -burned 119 calories in 17 minutes of working out on EA Sports Active.

Day 7 – Rest Day

Day 8 - completed 32 minutes of Wii Fit with my 7 year old in the evening hours as our "family time" together.


Day 8 – burned 129 calories in 20 minutes of working out on EA Sports Active.

Day 9 – Rest Day

Day 10 – completed 22 minutes of EA Sports Active burned 151 calories.

Day 11 – completed 16 minutes and burned 96 calories on EA Sports Active. Didn't get a full workout, boys were not interested in this today.

So this week I am excited to continue on in my exercising efforts as I move towards reaching my goal size in six months, I have determined I want to lose 85lbs but if I don't lose the actual "number" on the scale my feelings won't get hurt if I simply fit in a size 10 again! By the way that four pounds I mentioned earlier came off by end of week, so not sure. I assume because I am working out I am changing fat for muscle and of course increased water consumption combined can certainly cause some weight fluctuations.
Are you succeeding in reaching your goals? I hope so, keep up the great work!