Childhood is the most important part of a person's life. What a person experiences in childhood shapes his or her entire life. It impacts our personality, behavior, thought process, our interpersonal and intrapersonal relationships, ability to deal with things, etc. It goes without saying that parents have a huge responsibility. They need to provide their children with a healthy and productive childhood.
Parents usually do their best in this regard. They make sure their children eat nutritious food to ensure physical health, they enroll them in good schools for their mental growth and learning, they also make sure that they participate in sports so that they can reap its benefits. However, one thing that is often overlooked by parents is the importance of toys in child development.
Most people think toys are just for fun. Their only purpose is to keep the child occupied while mom and dad are busy doing their stuff. What is ignored in this case is the huge potential toys have in shaping the physical and mental abilities of children. Toys have many advantages, especially STEM toys. They make children learn new things and expose them to various fields, which they can later choose as a career choice, such as science, arts, etc. That's why it is really important that parents pay special attention when buying toys for their toddlers. In this article, we look at the benefits of STEM toys and which STEM toys parents can buy for their kids in 2020.
What are STEM Toys?
The first question is, what exactly are STEM toys. STEM stands for Science, Technology, Engineering, and Mathematics. Naturally, STEM toys are such toys that are related to these fields. These toys incorporate various concepts and experiments of science, engineering, mathematics to increase a child's interest in them. Common examples of STEM toys are robots, telescopes, chemistry kits, building blocks like LEGOS, etc.
What are the benefits of STEM Toys
Before you start purchasing STEM toys for your children, you should know in what way they are helpful for kids. Here are the primary advantages a child will receive if he or she spends most of their childhood playing with STEM-related toys.
They Increase Creativity
All STEM toys are geared towards developing creativity in kids. Creative thinking is the primary requisite for operating or playing with a STEM toy. They are made in a way that forces children to think creatively and out of the box. Moreover, there isn't one goal in STEM-related toys, children can use the same toy to create different things or use certain parts in multipurpose ways.
They develop Critical Thinking in Kids
Since STEM toys are related to science and technology, they include challenges that a child has to overcome. In order to do so, a child needs to focus on a particular task and think of various ways to achieve the goal. This makes children think critically and consider one thing from numerous perspectives. Not to mention, it improves memory and concentration in kids.
Stem Toys improve motor skills
Engineering based toys come in different parts that require assembly. When children play with such toys, not only are they using their mental abilities but they are also utilizing their motor skills. STEM-related toys increase hand-eye coordination in children. This is extremely helpful for very young kids and special children facing difficulty developing motor skills.
They help enhance problem-solving skills
Like I mentioned earlier, STEM toys make problem-solving their main focus. There are multiple challenges and problems that children should solve in order to win the game. When kids are continuously exposed to difficulties, it pushes them to use their mental capabilities in order to overcome them. This enhances their problem-solving skills which help them become more independent and is extremely useful in their adult life.
There are more chances of kids choosing Science related careers
There is a general notion that the fields of science, mathematics, and technology are really difficult. Not many people choose them as a career choice because of this. And the few who do is not because it interests them, but mostly because it pays well. One culprit behind this mindset is the lack of exposure to science-related subjects in early childhood.
But parents can remedy it with STEM toys. When a kid plays with STEM toys, the difficult concepts become fun for him or her, making them realize that science is actually fun. Hence, more children are likely to choose science, technology and other related fields as their careers.
Learning is more fun with STEM Toys
Learning is an integral part of childhood. Kids are always observing others, imitating their behaviors and learning new things. However, the traditional way of teaching that happens in schools is not very effective and makes learning boring and monotonous. If you don't want to hinder the learning process of your children, make sure they have STEM toys to play with. Not only do they make learning interesting but fun as well.
The Best STEM toys for kids in 2020
Now that we've established the various benefits of STEM toys, it is imperative that you buy them for your children. However, there are so many toys geared towards Science, Technology, Engineering, and Technology, available in the market that parents become confused. Although, it is a guarantee that whichever stem toy you buy won't be a wrong choice, still here are some of the best STEM toys in 2020 that is the ultimate gift any kid can want.
1. GeoSmart Mars Explorer
Price: $69.99 on Amazon.com
Ages: for children older than 5 years
GeoSmart Mars Explorer is a fun toy that focuses on construction and building. Children can use the parts that can be linked together through magnetic plates to create a mini Mars explorer. There are four different versions of vehicles you can make according to the instructions but no need to limit yourself. You can create any type of vehicle you want. The toy enhances the engineering skills of children.
2. ThinkFun Roller Coaster Challenge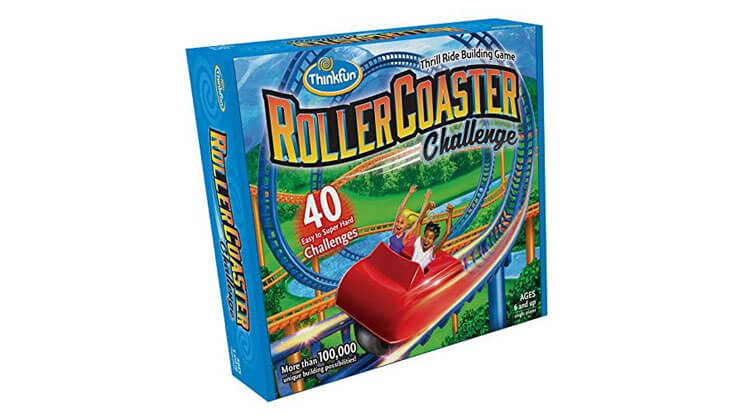 Price: $29.95 on Amazon.com
Ages: for children older than 6 years
ThinkFun Roller Coaster takes engineering to a whole new level. In this toy, children can make their own 3D roller coaster. And not just that, it comes with 40 different challenge cards that range from beginner level to expert level. You can design your roller coaster according to these challenges and see your car speeding down the loops and turns. You can also come up with your own design and see if it works.
3. 4M Water Rocket Kit
Price: $16.81 on Amazon.com
Ages: for children older than 10 years old
4M Water Rocket Kit is especially a favorite among boys. With this toy, you can build your own rocket and see it soar up the sky as far as 20 feet. There are various small parts that children can use to build their own rocket, mainly a water bottle, connecting tubes, and a bike pump. This toy demonstrates Newton's third law of motion and could be a great way to teach your kids about laws of motion. Just make sure there is adult supervision when kids are playing with it.
4. Magna-Tiles Clear Colors 100 Piece Set
Price: $107. 96 on Amazon.com
Ages: do children older than 3 years
Magna-Tiles Clear Colors 100 Piece Set is a fun toy that focuses on construction and deconstruction. In one set, there are 100 tiles in various colors and shapes. All of these tiles are magnetic and can be easily joined together. Children can use them to make their own creations. Be it buildings, vehicles or 3D objects. It promotes motor skills, critical and creative thinking in children. Although, there is no way your kid will become bored of this, if he or she does, you can always buy them a set with more pieces or glow in the dark version tiles.
5. Bit Coding Robot (White)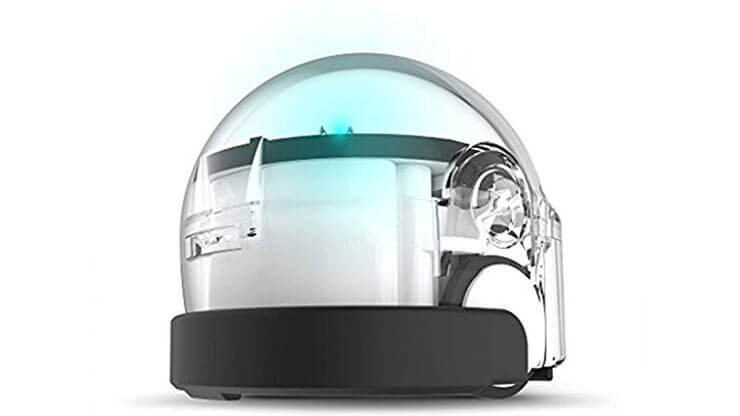 Price: $47.95 on Amazon.com
Ages: for children older than 6 years
No one can deny that technology is the future of humanity. It is important for children to learn about technology so they can understand the world they'll be living in. And there's no better way to do that than using this Bit Coding Robot. Like the name suggests, this STEM toy focuses on teaching coding to children. You can customize your own mini robot who will guide you on how to code. Moreover, you can use color markers to learn color coding. Not only that, once you've accomplished all the challenges on paper, you can take coding to another step by using an iPad.
6. Snap Circuits Jr. SC-100 Electronics Exploration Kit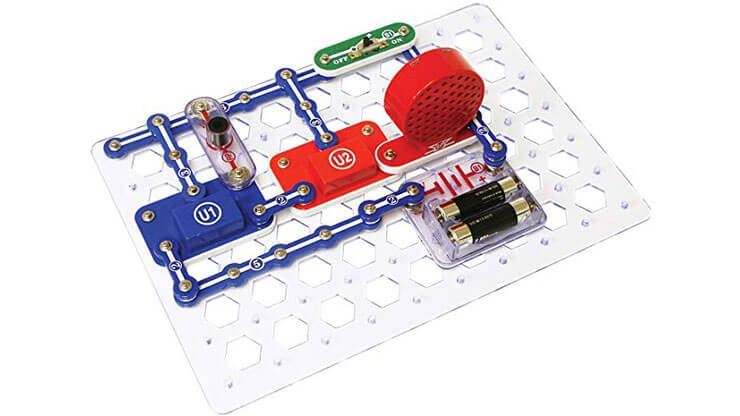 Price: $19.31 on Amazon.com
Ages: for children older than 8 years
Once children start elementary school, they start demanding more challenging toys. Snap Circuits Jr. SC-100 Electronics Exploration Kit is perfect for them. It is an advanced STEM toy that teaches about electronics, circuits, and principles of electricity. Kids can use the kit to make more than 100 projects. They can complete a project and power a mini light bulb, flashlight, a fan, motor, etc. The toy is completely safe and doesn't require soldering, the circuits can easily be snapped together.
7. Anki Cozmo, A Fun, Educational Toy Robot for Kids
Price: $189 on Amazon.com
Ages: for children older than 8 years
Anki Cozmo Robot is a cute little robot powered with artificial intelligence. It is the best Robo-friend your kids can ask for. Not only does it have facial recognition but it can also speak up to 100 or more expressions. That alone makes it worth the money but Anki Cozmo also teaches your kids coding and programming.
8. Educational Insights GeoSafari Jr. Talking Telescope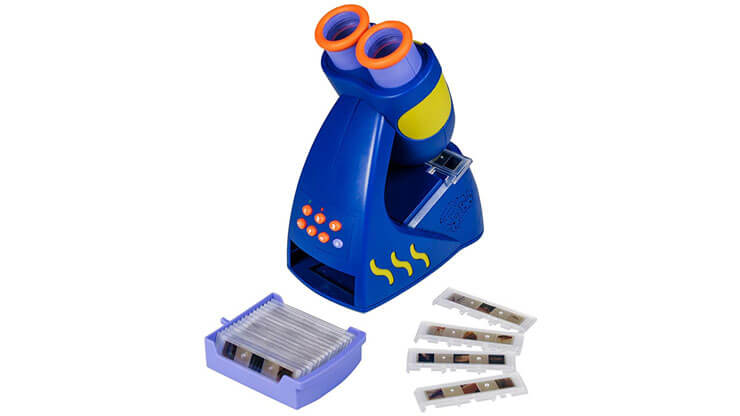 Price: $49.99 on Amazon.com
Ages: do children older than 5 years
A STEM toy list is not complete without a telescope. The Educational Insights GeoSafari Jr. Talking Telescope allows your children to satisfy their curiosity by observing things by magnifying them five times their size. It also comes with 60 colorful slides that your kids can observe under the lens. Not to mention the trivia, facts, and quizzes which are bound to enhance their knowledge of the world.