Whether you're selling your home or looking to buy one, having a home inspection can be beneficial. As a seller, getting a home inspection can help you get a jump on things by finding out what type of repairs or upgrades your home may need in order to sell it. As a buyer, getting a home inspection is part of your due diligence to find out the condition of the home you're interested in buying — before you sign on the dotted line. Having your own home inspections checklist as a buyer or seller, helps you get the most out of it.
Home Inspections Checklist
Learn about some of the things home inspectors look for when inspecting a house for sale.
1. A Functional HVAC System
The HVAC — heating, ventilation and air conditioning system — is something you use every day. It's vital in summer and winter. So if it's in a state of disrepair it needs to be fixed before a sale. Any standard home inspector will check that the system is functioning properly and will be able to give you a good idea of how long it will last by checking the serial number.
2. Leaks and Plumbing
If there are potential leaks, they need to fix it before the home inspector finds them. As well as looking for leaks, the inspector will turn on multiple water sources at the same time to check the water pressure. Faucets, toilets, and dishwashers will all be tested.
3. Electricity Systems
If your home is older, built between 1880 and the 1930s, it may have knob and tube wiring. No matter what state this is in, a home inspector will suggest replacing this with a more modern electrical system.
Another system to check for is a Federal Pacific Electric circuit breaker panel. Circuit breakers that trips on those systems often lead to fire and overheating.
4. A Solid Foundation
At any moment, termites could be gnawing their way through the wooden foundations of your home. One morning you'll step out onto the wooden porch or deck to have your morning coffee outside and then snap, your foot goes right through it.
The home inspector will examine the structure and foundation of the house. If you know of any issues or weak spots in a home you're selling, it may be a good idea to get them fixed in advance of the inspection.
5. A Well-Maintained Roof
Any decent home inspector will give the roof a check. According to Bluebonnet Roofing, an Austin roofing company, "With the right preventative maintenance, you can increase the life of your roof and protect it from damage." Unfortunately, not all homeowners do preventative maintenance on their roof. An old roof or one that hasn't cared for after harsh weather may have a multitude of small issues that have gone unnoticed.
Bringing the roof up to code before an inspector can get eyes on it is recommended. If there's any damage, an inspector will recommend that its repaired or replaced before the sale.
6. Appropriate Drainage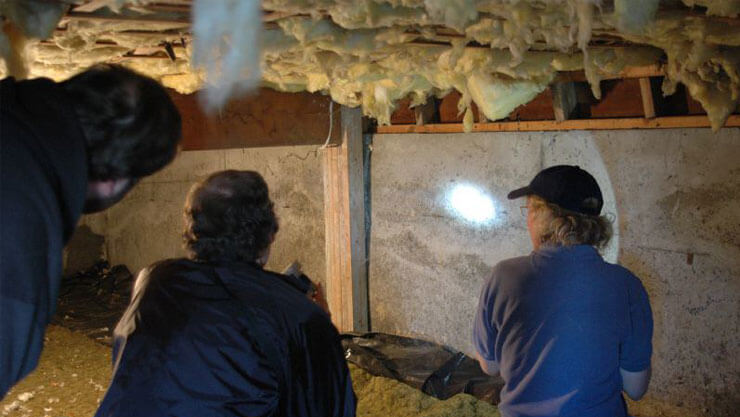 Every house needs appropriate functioning water drainage and disbursement. If water isn't dealt with correctly, it leads to foundation damage, siding damage and more. Water should drain away from the house and not toward it.
A home inspector will check the gutters and spouts. If they're damaged or incorrectly placed, they'll need to be replaced.
7. Flooring Quality
A floor that buckles are as dangerous as a foundation that does. Weak flooring is especially common in old houses with wooden floors. On floors with carpets, there could be a number of little creatures hiding in the wood beneath, gradually weakening it until it gives.
If there are creaky spots, they'll need to be investigated and repaired.
8. Asbestos
If the house was built before 1980, a home inspector familiar with asbestos may need to bring in. A home inspector needs to be able to make an accurate judgment on the presence of asbestos, based on a visual inspection.
People used Asbestos as insulation for a long time, but it's hazardous to human health. It's safe if undisturbed but it's still a better idea to replace it, just in case. You can find it inside on heating pipes, outside on shingles and in a number of other nooks and crannies.
9. Mold
Mold crops up in damp, warm spaces and often goes undetected. A home inspector will check all the places that you won't, such as behind picture frames, large cabinets and in the attic and basement — all places mold could be lurking.
Locate and eradicate any mold before a home inspector does. Seeing mold as a buyer — even if you're assured it's going to be eradicated — can be a reason to turn away from an otherwise perfectly good house. Unfortunately, certain types of mold can make a house inhabitable and cause a number of health issues in people and pets.
Featured Image Courtesy by Flickr