Have you always fancied having a go at water sports but been put off because everyone you see taking part in them seems to be so good and you're afraid that you'll just make a fool of yourself if you try and have a go? Well, if you're looking for a good place to learn a water sport then you should head for Lagos on Portugal's Algarve coast. Not only are the beaches some of the most beautiful in Portugal but the weather conditions and prevailing winds are just about perfect for water sports.
Image Source: Unsplash
The town itself is attractive and historic, full of wrought iron balconies and shady patios. Accommodation shouldn't be hard to find, there are plenty of beachfront rentals available that will get you close to the action. It's also a great place to eat, the ingredients are excellent and the portions are huge. Adage Tipica A Forja serves the best seafood in town or try Mullen's for classic Portuguese dishes. Your daytime though is likely to be spent on the beach: a tourist train runs from the marina to Dona Ana beach and Ponta da Piedade and is a good way to get between the town and your chosen water sport.
Sailing
Image Source: Pixabay
You can of course simply take one of the many cruises that explore the intriguing local coastline or you can take a sailing course appropriate to your ability with a qualified instructor. The offshore Nortada wind means that you will almost certainly have the perfect conditions in which to learn.
Windsurfing
Like surfing, windsurfing can be a challenging sport to learn but the lagoon situated between Lagos and Alvor provides almost perfect conditions: shallow water and a smooth surface. This means that you can really enjoy your first rides as a beginner or if you are already experienced you can use the calm conditions to finesse difficult manoeuvres. Lessons with fully qualified instructors are available for all levels of ability.
Diving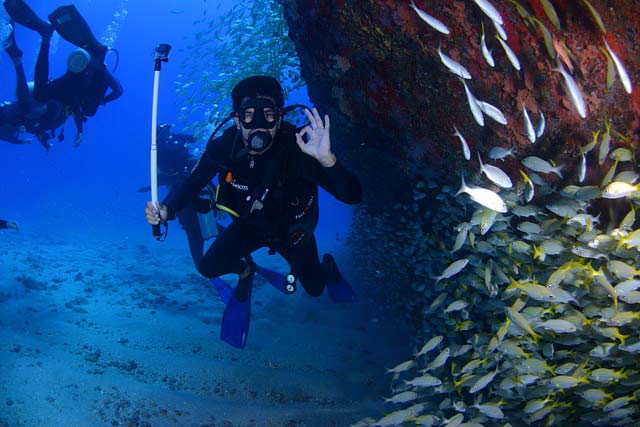 Image Source: Pixabay
Reefs, wrecks and underwater canyons and caves make this an exciting dive site for both the newcomer and the experienced diver. If you've never tried scuba diving before you can take a test dive, with a qualified PADI instructor and very quickly get a feel for whether this is your kind of thing or not. A wide range of courses and dives are on offer, suitable for divers at all levels.
Surfing
Image Source: Unsplash
For many surfing is a lifestyle. Learning to surf can open up a whole new way of life. It's a great way to get fit, a great stress buster and it puts you directly in touch with nature in a very physical way. Mild climate and consistent conditions make this an ideal location in which to learn surfing. The great variety of swell sizes and waves mean that it is appropriate for surfers of all abilities. The experienced staff at filsurf will guide you through all the essentials and teach at a pace appropriate to your standard and ability. They also offer accommodation.
Kitesurfing
Shallow waters and steady winds make Lagos one of the best locations in Europe in which to learn this newest addition to the surfing experience. There are a full range of courses available which cover theory, safety, equipment set up, launching, landing and piloting.
Save
Save
Save