We all took languages in school – whether it was Latin because we thought we wanted to be a lawyer, Italian so we could go have a romantic getaway or Spanish because so many people told us to take it. However, how many of us actually remember studying the words, tenses, and phrases that make up the language?
So few of us can recall that knowledge because most of us learned something for a test and then forgot it. Or we learned it for a semester and never actually used it again.
Instead of doing that, kids today are remembering the languages that they choose to learn and putting them to use in good, meaningful ways. They use them in college to forge connections with international students, they use them in the workforce to expand their horizons, and they use them when they travel to have a better experience.
Learning languages is hard for kids, but it doesn't have to be. Try downloading an app that makes learning seem more fun and easier than ever before. From personalized lesson plans that teach about culture like Duolingo to actually speaking the language (Hello Talk), your child will get the most out of these: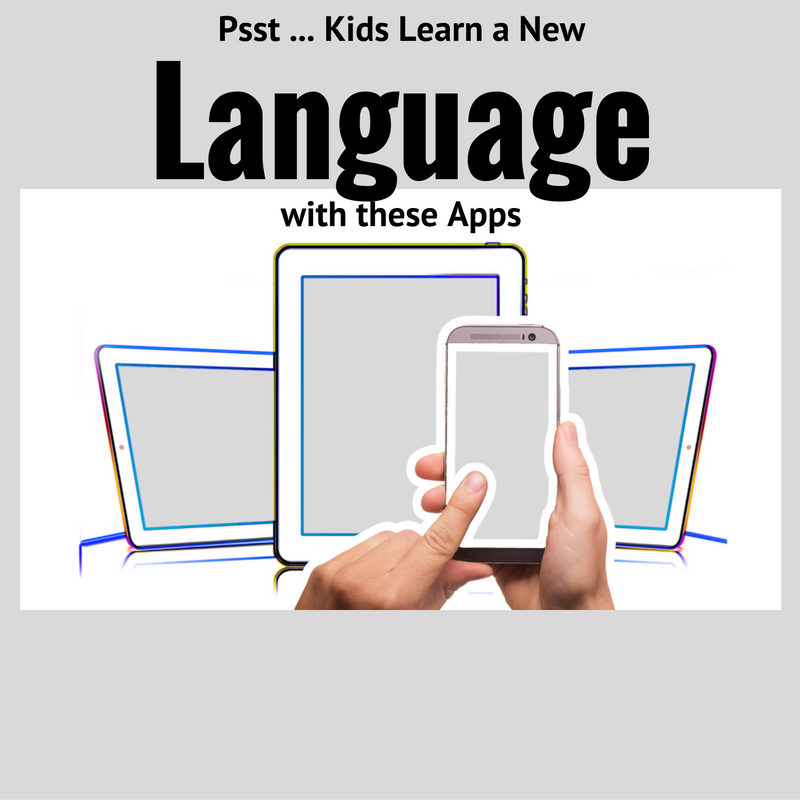 Hello Talk
While you have to know how to write and read the language to pass a class, speaking the language is the most important skill your child can learn. Hello Talk makes learning the language easier by putting your child (and you!) into contact with someone who natively speaks the language. You'll have real time conversations that not only improve speaking skills, but also helps your child develop the proper accent.
Hello Talk has over 100 languages available, so if you want something a little more uncommon, this might be a great place to start. Everyone who uses Hello Talk is impressed with how helpful it is in really solidifying the language in the brains of children and adults. If your child is learning a language you "learned" but forgot, you'll be surprised how quickly just listening in on the conversations will bring you back.
Don't be worried about lagging chat sessions or pixelated video – those won't hold you back. Hello Talk teamed up with Agora.io's communication HD technology. This company helps to provide some of the best audio and visual connections around, which makes learning streamlined.
Cost: Free
Where to Get it: iTunes Android
Brainscape
For most of us, learning a language meant hauling around a huge collection of flash cards or index cards. Brainscape takes those flashcards and makes them easier to hold. Your phone is your source of flashcards, and the amount it can hold is endless.
Flashcards are a great way to remember vocabulary words because you are connecting the words together. It is something that isn't all that modern, but you shouldn't fix something that wasn't really broken – you just have to make it easier.
Brainscape makes flashcards that you can sort through to study, and then use to test yourself. They keep your brain moving by mixing up the cards, cycling in words that you know by heart with words that you have to keep studying.
If your child needs a solid foundation for a language – or just help with English vocabulary – Brainscape is a tool to help. When you combine it with something like Hello Talk, which lets your child speak the language, you have a winning team.
Cost: Free
Where to Get it: iTunes
Lingvist
If you are taking a trip to Europe this fall and your child wants to have a working knowledge of the language (for fun and for safety), Lingvist is a quick moving tool that can teach anyone a working language in about 200 hours.
Now, you won't know all of the ins and outs of the language, but it is a crash course in some of the most commonly used words, structures, and statements. The app primarily relies on the same flashcard technique to facilitate learning.
You'll be able to track your child's progress throughout each language so that you know if he or she is actually putting in the work. If your child picks something up easily, they will move on, reinforcing it as they go. If there is a struggle, the app slows down.
So far the app focuses mainly on teaching English and French, but they have exciting expansion news coming soon.
Cost: Free
Where to Get it: iTunes Android
Memrise
Memrise is another app that works with 100 languages. It works with the power of children's memory – something that is incredibly strong. They'll learn the rules of grammar, a massive amount of vocabulary rules, and even the patterns that pop up over multiple languages.
Even better, the app feels more like a game, so your child will actually want to pick up the phone and play. Once again, Memrise doesn't really focus in on speaking, so it is best if you combine it with another app on the list so that your child can get that functional skill.
Overall, Memrise is a really strong choice for children of any age.
Cost: Free; $59/year for pro
Where to Get it: iTunes Android
Duolingo
Duolingo has been one of the best learning apps for quite some time, but the reason we consider this one "new" is because they have recently overhauled the entire app. It is now more effective and functional than ever before.
Duolingo breaks down the language into scaffolded chunks. What you learn today will help you with what you learn tomorrow and what you learn tomorrow will practice what you learned today.
Duolingo takes the approach that many schools take – baby steps, vocabulary lessons, interactive grammar, and pushing tenses. Still, it does have a gamelike feel because of the review games and quizzes that allow your child to "level up."
Cost: Free
Where to Get it: iTunes Android
Busuu
Busuu is a collective project that took the best ideas from 60 million native speakers of many languages and put them together to create lesson plans that focus on all aspects of learning a language. The lessons are a little long and take some time to get used to, but they are fully immersive and interesting for children and adults.
Busuu takes its time, allowing your child to learn the different nuances in the language that they choose. You can even focus in on different regions and countries that technically speak the same language, but it is a little different everywhere.
All of the lessons on Busuu are really specific, so your child will be able to pick up at any stage.
If your child doesn't know what language he or she wants to learn, Busuu has a list of 150 topics and 3,000 words in over 100 languages.
Cost: Free
Where to Get it: iTunes Android
If you want to give your child the best chance possible at not only learning a new language, but loving that new language, you should definitely consider using one of the apps above.
Learning a new language will help your child with travelling, school, and future career success. It will also make him or her smarter, bolder, and better equipped in life.
What is stopping you from making your child love learning?