Although going to the beach for a fun day in the sun is appealing, it is not always practical. As a result, a summer balloon battle is one of the best ways to cool off during the summer sun. These water-filled balloons reached the mark every time. They offer a relaxing experience as well as an enjoyable way to spend time with loved ones. So, if you and your friends are up for an action-packed water balloon fight with disciplined rules, go ahead! Continue reading to learn how to make the best of it.
One of the best aspects of water balloons is how easy they are to use. You just need to get some balloons and a faucet to fill them up with water, you are done! However, if you want to spice up your water balloon games then consider adding a few more weapons to it.
Always keep in mind that you should know better how to have a water balloon fight party in the best way. Tell children what to wear to a water balloon fight. In this way, they would be able to enjoy it more. Not just that, you should tell them clearly about the water fun fight rules so that they do not harm anyone or themselves.
How to Throw the Best Water Filled Balloon Ever for Your Kids
It's that time of year when the kids are home from school and summer has arrived! My kids and I have always enjoyed a good summer balloon battle, as a means to cool down on a hot summer day without leaving our yard. Usually, you can purchase a large lot of water balloons for cheap money.
No one and I mean no one is to throw a water balloon at anyone's face unless told to do so by that person.
No one is to throw a water balloon at another person unless they have a water balloon in hand and are partaking in the battle.
When the bucket of water balloons are gone, there are no more water balloons, so use them wisely.
If your kids are like mine can be, make sure to count how many balloons each child is allowed to have. Once used up, they are done.
No throwing water balloons at any windows, cars or other inanimate objects that may break.
Last but not least, HAVE FUN!
More on Adventurous Balloon War Games & Rules For Kids
Water balloons might have been an absolute necessity when you were a child. You must have spent countless hours playing various children's water war games. Water balloons were never played with children today until they were four years old. This summer, you have to fix that. When you throw a box of water balloons into your shopping cart and tell your kids what they are, their eyes will light up with delight.
They'll adore them without a doubt. As a result, you'll need a lot of creative ideas to keep them entertained over the summer. If you're planning an end-of-year party, camp, family holiday, or just lazy summer days at home, water fight ideas are a fun way to pass the time. You must find some enjoyable summer balloon battle activities.
1. Catching Experiment with various catch combinations 
Toss the balloon into the air to see whether they can catch it
Start playing hot potato with a team
Play catch with a cousin or sibling
Toss the balloon into the air to see whether they can catch it.
---
2. Filling up the balloons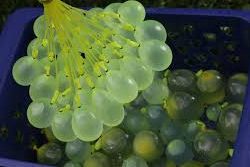 Make a game out of it by allowing the kids to help you fill the balloons. 
Compete to fill the biggest balloon without it bursting.
Set a timer to see how many balloons each child can fill in a certain amount of time.
---
3. Exploring Water Balloons
Allow kids to explore filled water balloons at their leisure. Playing with them for a while would probably give them more enjoyment than you think.
Push on the balloon to see how it changes shape slightly
Compare the weight of a balloon filled with water and a balloon filled with air
See what happens if you drop them
Try to pass them around
Feel the balloon's surface
Playing Various Water Sports Play your favorite sports with water balloons instead of bats. Try water balloon hoops, beach volleyball, or Spoonful's water balloon basketball.
---
The Laws of Water Balloon Fight Party
Take into consideration what everyone enjoys the fun.
Make sure that water balloon war rules are set based on the child's age.
Separate children into similar age or size groups to ensure the most fun is had.
Provide ample chance for summer balloon war rules to include being able to refill their hands with balloons.
Teach the children to clean up after their summer balloon battle, for you know those little balloons will surely make a mess.
Encourage the water fight rules to include letting the children enjoy childhood.
Children's Fun Competition Medal Customization
Sports competitions for kids include having fun, and medals won are more souvenirs than medals won. However, it's worth remembering that medals may inspire the youngest to compete in their next competition and increase their passion for sport and competition. GS-JJ's custom race medals are also perfect prizes for game competitions or school competitions and other events. GS-JJ is keen on colorful metals in atypical shapes. All children's medals are unique and made according to design. And have a complete set of accessories (straps and medals) ready to use. They have a professional design team to customize and design for you for free.
Summer only comes around once a year, so why not use these water balloon fight rules as a way to help your children stay entertained and cooled off on a hot Summer day!