Do you want to build a snowman? The song I was singing, much to the annoyance of my children, while sitting down to craft it up the other day. I was on a mission … a mission to build a snowman! Not a real snowman, please no, I am not ready for that cold, wet real snow, but cotton balls make a good replacement for snow. Today I share with you a super cute, fun and easy craft to do with toddlers, because that is about my skill level – toddler level. I swear, in some ways, I shall never grow up!
You will need cotton balls, googly eyes, glue gun (if you wish), Elmer's glue, construction paper in brown, white and black. Oh and scissors!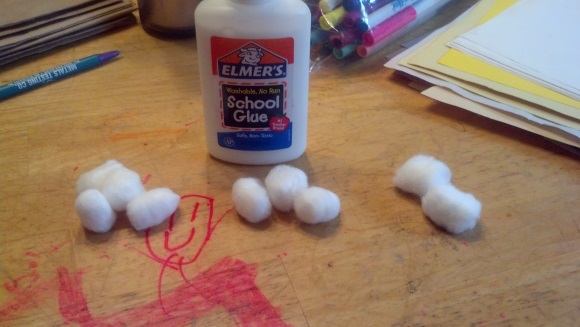 Glue together 4 cotton balls for the base of snowman, 3 cotton balls for the body of snowman and 2 cotton balls for the head of snowman. Glue these together as if you are rolling together a real snowball outside in the winter with cold, wet snow.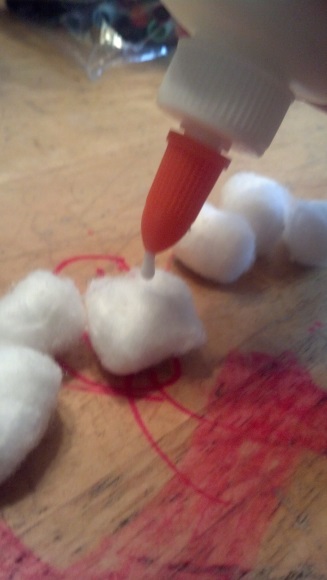 Once you have your "snowballs" ready, you can move onto the next step… I personally prefer hot glue gun, but you may use Elmer's glue for this step. Glue the snowballs onto a circular piece of white construction paper. In order of snowball size, just like a real snowman.
Then you will have your snowman all built up and you can draw the hands and get the googly eyes ready .. your snowman should look similar to this right now …
Then .. you draw the arms best you can on brown construction paper, and cut it out.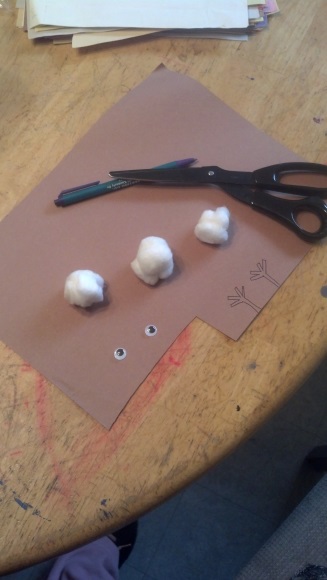 Once you have the arms cut out, and googly eyes chosen, you an start to place these items on the snowman …
The last step is to draw a black hat, like shown in first image in this post. Glue it to the top of your snowman. There you have it, how to build a snowman, without snow, toddler style!
If you make this craft and are not supervising the children, I am in no way at fault for any harm done, this craft is meant to be a supervised craft when the child is clearly not old enough to make this snowman on their own. Please use common sense when crafting up any craft ideas I share. I am not to blame for any malfunctions or injuries that occur when making my craft project ideas.
If you try to make this with your toddler or preschoolers please let me know they came out. I would love to see photos if possible!