Do you have an Easter Egg hunt each year for the family? We do. While I won't have my children this weekend, they will have some form of an Easter Egg hunt with their Dad's, I am sure. It's a tradition for us.  There many ways one can throw an Easter Egg hunt, but here is how we throw an Easter Egg hunt ;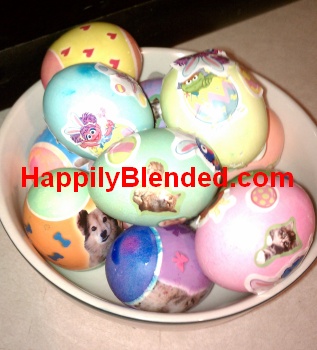 First, the kids are not allowed outside because the best way to throw an Easter Egg hunt is to get outdoors, especially if the weather allows. The eggs need to be hidden before those sneaky kids are peeking for where we are hiding the eggs. Easter is probably the first holiday that allows for the children to get outdoors and enjoy some of that fresh air. For the little ones, try to hide eggs in obvious/easy to see places but let the older kids know not to touch those ones. We have hidden Easter Eggs under picnic table joints, behind trees, up in trees, around the railings of the two decks on the house and over the hills in the field. Simply tell the kids where you have outlined for a hunting ground and let them run. Having a basket or plastic bag to use for collection of their found eggs is best.
What should you put inside of the Easter Eggs for the Easter Egg hunt? Well that is a great question!
Unless you use the hard boiled eggs for the hunt, you can place items inside of the plastic Easter Eggs, they are plastic eggs that open up for a filler to be placed inside and are super affordable at your local retailer. Placing candy filler inside of the plastic eggs is something we have done here, but also money and other random treasures for the children to enjoy opening up to find.
This year GradSave is on board to help you share more with your children during the Easter Egg Hunt. You can go to the Easter Promotion page on GradSave and insert your information. New GradSave members will be able to print off up to 20 $10 coupons to place inside of the eggs for the Easter Egg hunt this weekend. These coupons are only redeemable for NEW GradSave customers only and 1 per household. This is a great thing for Teachers, Parents and anyone who is attending an Easter Egg hunt this holiday time.
I have discussed GradSave in the past, so if you wish to learn more about GradSave please visit my previous post or click on over to GradSave's Easter Promotion Page to learn more.