One day I had not realized that I ran out of bread but I did see we had Ritz Crackers, peanut butter and jelly. This would have to suffice and that day I created something for lunch that my kids have asked for more often than not…
Ritz PB&J Sandwich Crackers
Ingredients:
Peanut Butter
Jelly
Ritz Crackers
Needed Items:
Plate(s)
2 Butter Knives – 1 for PB and 1 for Jelly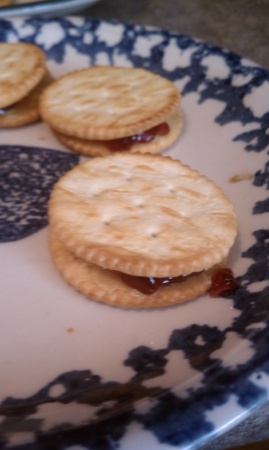 Get Started…
This is a pretty easy to make item, that is if you have ever made a peanut butter and jelly sandwich before. Simply use two Ritz Crackers as if they are bread. Use one butter knife to place peanut butter on one side of one cracker then use another knife to put jelly on one side of the other cracker. Put the two crackers together, place on a plate and serve with a fresh glass of milk.
**We used Low Sodium Ritz Crackers, feel free to use whatever type of Ritz Crackers your family enjoys.