My daughter is getting to the age and grade where students are not so nice anymore. It seems cliques are being created, rumors are flying and well my daughter is starting to have to deal with the immaturity of children. The problem is that my daughter is around high school level for all academic areas and quite intelligent on an emotional level too, but she is still only nine years old and sensitive like her Mama. There are some skills this year I have had to start working harder on teaching my daughter.
People Are Not Always Nice
I don't care if you are nine years old or thirty years old, people can just be plain mean. Rumors can be started about you whether you are a young child, a teen or an adult. It happens and in a small town the rumors fly fast!
Although some people are not nice, it doesn't mean that you have to be mean back. Simply accepting criticism with a smile can go a long way. I am a firm believer that a smile cures all, and if it doesn't it will surely upset enough people that eventually they will leave you alone realizing that you are not being impacted by their negative attitude.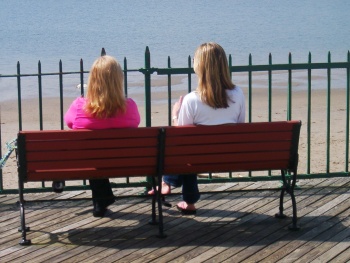 It Starts with Communication
Whether you are a young child, a teen or an adult communication can start to solve many areas of life. You see, when a person is mean it usually means that they are hurting inside themselves and rather than face those painful thoughts or memories they tend to lash out to others and make their life a living hell. This is human nature, and it happens more often than I wish to admit.
The best way to handle a person who is being rude and mean to you is through communication either to a trusted adult or to the person who is bothering you. Now if the person is truly a mean person then communication with them directly may result in a negative outcome, so try to utilize all resources for communication which are not limited to but can include; a school guidance counselor, a parent or a trusted friend. These resources may be able to help serve as a mediator to diffuse the situation.
Learn How to Cope and Be Confident About The Situation
Although connecting with a friendly resource may help to diffuse the situation, it could make things worse before they get better, which means you need to learn to cope with those mean people in the world. Learn and trust in your own self, realize that you are a good person with a positive attitude and that no one can bring you down unless you allow them to.
Give or get a hug from a parent or similar person who you trust and is a good person. Smile with this person, laugh and open up about how you feel. This trusted person should be able to help you find ways to cope with mean people through finding your own confidence in your self. Coping with a mean person doesn't mean hiding in a book, getting lost into the fantasy world found within books, it means truly acknowledging and accepting others for their flaws but not allow their flaws to create a flawed, negative person in your own self.
Be Strong
Remember that you are powerful, a smile and a little kindness can go a long way. Find the strength to do something kind to someone else and you will get kindness in return, eventually.