I attended a fantastic party while at Type-A Parent Conference where we were able to experience Just Dance 2 and believe we also had the sneak peek at Just Dance 3 in addition to Smurfs Dance Party which isn't even out yet. I must admit the Smurfs Dance Party looked fun but it was creepy to see Papa Smurf getting down dancing. I had to laugh pretty hard when he popped up on the screen.
I loved this party because I hadn't ever played any of the Just Dance games on my Wii yet, I am one of those that would rather get a recommendation from someone else or test out the game before getting it.  After this party I actually did buy Just Dance 2 on Amazon because I know my family will love this game soooo much!
The UbiSoft rep got right out there dancing with all of the teams. There were so many prizes being given away and I wish I had won the DS but another blogger did and boy was I happy for her because she was a really nice person to have met there. One person won a Smurf blue Wii which would have been cool but considering I already own a Wii I can't say that would have been something I would need to win. I doubt I would hook up two Wii's in my household.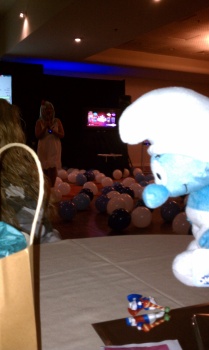 We got to wear cool rings and learn about the various UbiSoft upcoming releases for games for both DS and Wii. I am amazed at how well this party went and how organized it was. Thank you Type-A and UbiSoft for having this party because now I am going to be a Just Dance fanatic and owner. I know when Just Dance 3 releases I will be there to purchase it because this is a must have to keep our family having fun and being active.
Did you attend this party at Type-A? Have you ever played Just Dance games on the Wii? What do you think of them?