I love reading books, although I don't have the time to finish them as fast as I used to before the three munchkins arrived.  Books are a great way to spend quality time with your children but even better books can teach great life lessons as well! Making life fun and enjoying an adventure is what sparks the imagination in your little ones.  Remember reading with your child for 20 minutes a day can encourage a life long love of reading!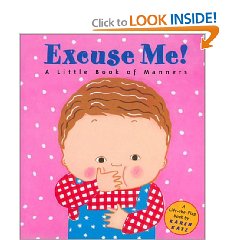 Excuse Me!: A Little Book of Manners
This book makes learning manners such as Please and Thank You fun for your little one. I know reading similar books has really increased my 3 year old's manners and in the past worked well to teach my 7 year old how to be polite. Manners are important and this book will help you, the parent, make learning manners fun for the child. Age Preschool.

Guess How Much I Love You
This is a favorite in our home. My daughters great, great grandmother gave this to her when she was a baby and we have cherished every moment reading it. It is always nice to share the love you have for your little one through book reading together and what better book than one that is titled "Guess How Much I Love You".  Aged 4-8.


Elmo's Delicious Christmas (Sesame Street)
Who doesn't love Elmo? I know he is a favorite around our house and this is just one of the many Elmo books that my children love to enjoy with me during the holiday season!  Have a fun journey with children's favorite character while Elmo shares a delicious Christmas with you and your family! Ages 9-12.

A Bob the Builder Ready-to-Read Boxed Set
Bob The Builder is a HUGE favorite in our house, after seeing Bob The Builder Live in NYC my family even my 7 year old daughter can't live without his books and his show! This is a great box set that is ready to read for your Bob The Builder fan! Ages 4-8.

Winter's Tail: How One Little Dolphin Learned To Swim Again
My family actually reviewed this book and loved that it teaches children about staying strong. Winter was a dolphin who learned to swim again with help from her human friends. This story will teach courage and strength to your child as they read and see real life pictures of Winter the dolphin.
Ages 4-8.

Katie and Kimble Books
Katie & Kimble Books are a great gift idea and are two books my daughter at age 7 read through with flying colors! She enjoyed these books so much that she actually had a video review of them live, just check out my Video Blogs page to see what she said about Katie & Kimble.
Make it a Happy Day!