We have a new video game added to our Wii collection and it's a fun game that even I can play, well, sort of. I watched my daughter play The Smurfs 2 on the Wii and I think it's a fun game. Who is your favorite Smurf? If you could choose which Smurf to be on a game, which one would you choose? I would always choose Papa Smurf, just love him.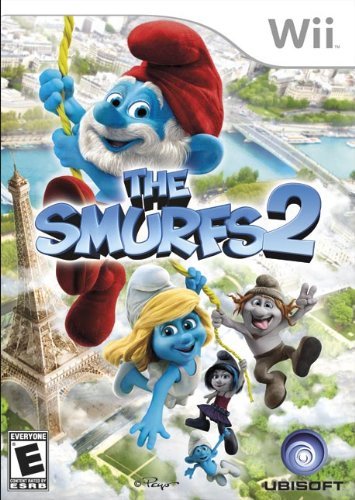 The Smurfs 2 video game is rated E for everyone and is brought to you by Ubisoft. You can play as whichever Smurf you choose to be and you can have fun in this Smurf adventure in your own home. This is in release as part of a promotion with the new Smurfs 2 movie, in case you have not heard of that film just yet. I know I will be watching The Smurfs 2 once it hits theaters for sure, especially after watching my daughter play it up on the Wii with this game.
About The Smurfs – The story of the Smurfs – a property created by Peyo – started in 1958 with the creation of comic books which were later brought to both the big and small screen. Over the years, the little blue characters haven't just limited themselves to the page and the screen. They have inspired records and CDs that have sold millions of copies, entire collections of figurines and toys, and many more products. In all, more than 3,000 derived products have been produced and leading brands and companies have spread their messages worldwide with the help of the Smurfs. A multitude of new projects appear regularly, thus making the success of the Smurfs planetary!
The Smurfs 2 is available for Xbox 360, PlayStation 3, Wii and Wii u. Players are able to choose between 9 Smurfs as they work their way through 30 levels in 6 environments. It's a mini-story type play that gamers shall enjoy. For more information about The Smurfs 2 Video Game visit their website. More details about Ubisoft and their new releases of video games can be found on the Ubisoft website.