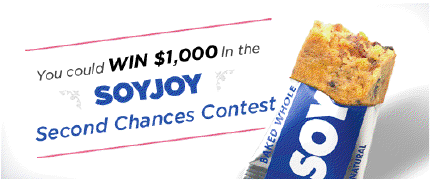 My family was able to test out a new healthy snack called SOYJOY which is made with ground whole soybeans and real fruit! We received a few bars and so far have tested the banana and the blueberry flavored bars. I must admit I wasn't too keen on the blueberry, my sons loved the banana one they shared and my daughter is hoping to grab a strawberry SOYJOY bar this week for school snack. I love that this product is made with real fruit as our family is big on eating fruits!
I was able to get the kids to actually eat it once they were beyond the fact that it didn't have the appearance of a candy bar or other sugary treat! I was excited to see that all three children loved to take a bite and taste test them. The banana tasted almost like banana bread which is a favorite of mine.
ENTER THE CONTEST HOSTED RIGHT NOW BY SOYJOY TO WIN:

SOYJOY is hosting the Second Chances Contest. Share your story about a time you did not make the best first impression, but with a second chance, turned it into a joyous ending! You'll have a chance to win one of three $1,000 prizes. Entries can be submitted in the form of a 30-second video or a 100-word written story. Don't wait! The submission period ends October 3.
In order to enter yourself into this contest you may Like SoyJoy on Facebook to read all the details as well as to find out how to submit your story!
Good luck entering this contest and if you have tested SoyJoy before please leave a comment telling me what you think about this new healthy treat?
Disclosure: I wrote this review while participating in a blog campaign by Mom Central on behalf of SOYJOY and received samples of their nutritional bars to facilitate my candid review. Mom Central also sent me a gift card to thank me for taking the time to participate.