The Fogless Shower Mirror by ToiletTree Products is a great way to help you look and feel your best. Don't you just hate when you get out of the shower to do your hair and make up just to find that your mirror is all fogged up from the shower you just enjoyed? Yes, me too! Now you don't have to worry about that with the Fogless Mirror with Squeegee because it is guaranteed not to fog, and designed not to fall.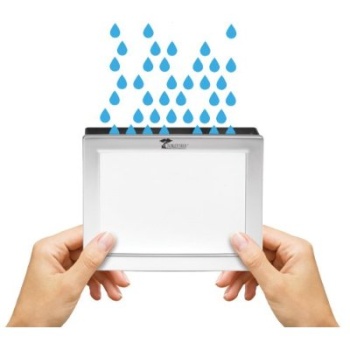 Some things to know about ToiletTree Products Fogless Mirror:
Patent Pending water chamber design keeps mirror fogless.
GUARANTEED to be fogless for life. Requires no annoying fog free sprays EVER!
Easy mounting with removable silicone adhesive. No more unreliable suction cups!
Built in squeegee to clean off mirror.
Designed not to rust, discolor or damage bathroom surfaces.
Measures 6.5in x 8.5in x 1.5in and weighs less than 1 pound.
I personally love this new mirror! I have always been one to want to look in a mirror all the time and have disliked having to deal with a fogged up mirror after I take a shower. I don't have time to mess around with it, I am usually running around with three kids trying to get ready. A foggy mirror is a pain in this household! I am very pleased with the ease of use, size of mirror and overall experience I have had with this Fogless Mirror. I would highly recommend you watch the below YouTube Video and have a look for yourself to see if this is a product you think would make a good addition in your house or someone else's home this holiday season!
Connect with ToiletTree Products on Facebook and Twitter to keep up to date with the latest.
This Product Was a Free Giveaway
Disclosure: Product provided for free. Click above link for more details.