My family was able to test out some Moon Dough and above is the picture of the barn we received and in the far right you can see an animal one of my boys made out of the Moon Dough. You know me when I review something I am usually really excited if it comes with three of whatever is included so that all three of my children can play without as much sibling rivarly and the Moon Dough Magic Barn came with a yellow, blue and white sample of Moon Dough. That made this Mama happy for starters.
My children and I were able to test out this product together when it first arrived, which is a first for us, usually someone is missing from the picture when I review a product. Baby K was in charge of making hay, AJ in charge of making fences and animals and Princess Ki simply did whatever her little heart pleased.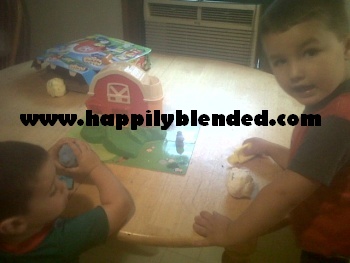 Setting up the barn was pretty simply, you put a side silo looking thing in, a crank and voila you have a magic barn ready for endless hours of fun times. The children didn't quite have the patience to work with the crank because it's best to take pauses in between each time you move the crank in order to get the best looking barnyard animals. We created yellow, white and blue animals and eventually all of the Moon Dough was mixed together because after all Baby K just turned two and loves to make a huge mess.
Speaking of mess, clean up was easier than other products we have used similar to this. Simply roll up Moon Dough in a ball shape and roll it on all the little extra pieces! We loved this Moon Dough Magic Barn and would highly recommend it to your family if you have children between the ages of 2 and 4, as that is the age recommendation from Moon Dough for this particular product.
Disclosure: I am writing this review as part of a campaign with Team Mom and the product reviewed was provided to my family for free.