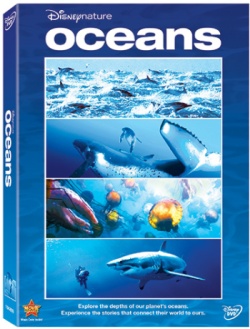 For Every Purchase Between October 19 and 25, Disneynature Will Make A Contribution To Help Protect Coral Reefs!

In celebration of World Ocean's Day, Walt Disney Studios Home Entertainment today announces the release of Disneynature OCEANS as a Disney Blu-ray Combo Pack (Blu- ray + DVD) and 1-Disc DVD, October 19, 2010 and the extension of the "See OCEANS, Save Oceans" efforts – an initiative developed between Disneynature and The Nature Conservancy to help establish new marine protected areas.
Disneynature OCEANS is helping to conserve more than 35,000 acres of coral reef in The Bahamas on behalf of moviegoers who went to see the film during its theatrical opening week. In continued efforts, Disneynature has committed to carry on the "See OCEANS, Save Oceans" initiative by contributing a portion of sales to The Nature Conservancy through Disney's Worldwide Conservation Fund for every Disneynature OCEANS Blu-ray Combo Pack or DVD purchased between October 19 and 25. As one of the world's leading conservation organizations, The Nature Conservancy is widely recognized for its efforts to protect vital marine habitats.
OCEANS on Blu-ray Hi-Def will take viewers on a breathtaking and unprecedented high-definition journey to discover nature's mysteries, showcasing creatures captured on film for the first time and state-of-the-art imagery of the colorful symphony that lives under the sea. With crystal clear picture, and theater-quality sound, OCEANS puts audiences in the very heart of the action, racing along amid a school of traveling tuna, leaping with dolphins and swimming shoulder-to-fin with whales that will entertain kids and parents alike.
What the Happily Blended Family Thought
First let me start by saying I have watched Oceans on DVD over and over again. My sons absolutely love this DVD! The video quality is amazing and we had fun learning about the ocean and seeing creatures we would not normally have a chance to see. I think my sons favorite part of the movie involved seeing the whales because they were in awe over the size! My four year old says to me "Mama look how big that whale is" and "that whale is huge". I giggled a little bit because this is a kid who rarely shows interest in more than a video or computer game! The word huge is apparently his new favorite word for something that is large in size and that was cute too!
The bonus features include Make a Wave which is Disney's friends for change music video featuring Joe Jonas & Demi Lovato. Our family is big on music so we enjoyed this bonus feature the best!
About Disneynature:
Disneynature, the first new Disney-branded film label from The Walt Disney Studios in over 60 years, was launched in April 2008 to bring the world's top nature filmmakers together to share a wide variety of wildlife subjects and stories with theatrical audiences. Disneynature EARTH, the first film to premiere domestically under the new label on Earth Day 2009, garnered a record-breaking opening weekend for a nature documentary. Walt Disney was a pioneer in wildlife documentary filmmaking, producing 13 True-Life Adventure motion pictures between 1949 and 1960, winning 8 Academy Awards®. For more information about Disneynature, go to www.disney.com/oceans; to become a fan on Facebook link to facebook.com/Disneynature; and/or follow us on Twitter at twitter.com/Disneynature.
Overall Opinion
As a Mom who enjoys educational, documentary type videos I think this is a great film that the whole family can enjoy on movie night.