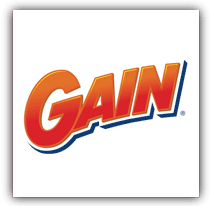 I was able to test out some new Gain Liquid Dish Soap from a MyBlogSpark campaign and now I want to share with you my thoughts. For starters, I haven't ever tried this liquid soap before, which is surprising as it's a pretty low cost liquid dish soap brand. I loved the scent that it gave off while cleaning my dishes and it made my dishes really clean. I hadn't had one issue using Gain Liquid Dish Soap, so have you used it, what are your thoughts?
If you are looking to keep up with Gain online you can follow them on Twitter, Like Gain on Facebook and visit one of their two websites.

Disclosure: P&G provided me with this free product, bubbles, t-shirts, and gift card giveaway through MyBlogSpark.