I took part in a pantry hunt to see what is in there and to make my family aware of our sugar intake .. certainly the three heaping spoonfuls I place in my coffee every morning can't be good for me?!  Anyways our family is obviously pretty big on sugar without even knowing it. During my pantry hunt I was to find at least five items I commonly use in meals or eat for breakfast, lunch or dinner and list what types of sugar are in each. Here is my picture of the five things I found in our cupboard that is considered "our pantry" area …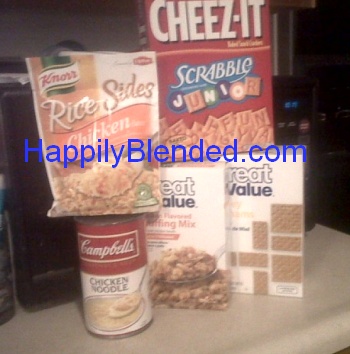 I read the labels and this is what I found was in each of these for sugars, mind you I am new to this so it's quite possible I missed something in the ingredients but I was shocked to find what type of things actually have various forms of sugar in them:
Knorr Rice Sides: Chicken Flavor – Corn Syrup & Sugar.
Great Value Chicken Flavored Stuffing Mix – High fructose corn syrup, Dextrose & Sugar.
Great Value Honey Grahams – Sugar, Honey, High Fructose Corn Syrup.
Sunshine Cheese-It Baked Snack Crackers – found no sugars in this.
Campbell's Condensed Chicken Noodle Soup – found no sugars in this.
Interesting enough, don't you say? When someone asks me what sugars I intake I automatically think candy bars, soda and the sugar I place in my coffee each morning, rarely do I think that the stuffing mix I had with dinner was going to count towards my daily sugar intake. Want to know what sugar looks like in images? Sugar Stacks website shows you what various levels of sugar looks like, wow is all I can say. This blog tour has educated me very much so and I am happy to have taken part in it.
"I wrote this review while participating in a blog tour campaign by Mom Central on behalf of the Corn Refiners Association. I received a gift certificate to thank me for taking the time to participate."