My family received a copy of Cars Toon: Maters Tall Tales for the Wii console. When this video game first arrived in it's package I held it in my hands and my four year old looks up at me to say "Mama open it up I think it's my game for the Wii". Mind you this boy has been saying that a new Mario Kart game is heading our way and will arrive in a box for at least a month, so he's certainly on the gamer mindset.
I placed Cars Toon: Maters Tall Tales for the Wii into my game system after we were done enjoying outdoor play time and oh my gosh!!! My four year old was super excited and so was my eight year old daughter. This game has become a family favorite, not to mention Mater is totally cool.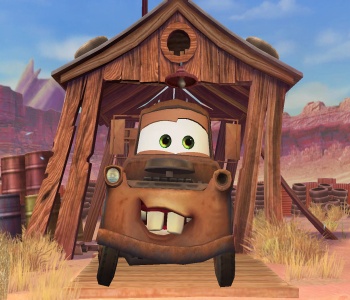 The kids get to play different modes on the game to enjoy fun times together, unlock various levels and earn trophies. This is all what I gathered form watching them play. I am not a big gamer person, I enjoy watching them play and cheering them on while laughing at some of the cute little cartoon type scenarios in the game too! For instance, there is one part where Mater shows off and tips this big monster over by literally clipping a chain to the arena area and driving off, very cute! Here is the monster I am talking about …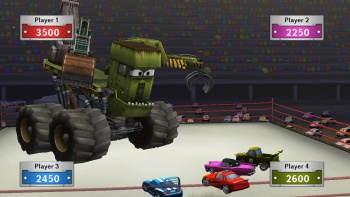 I know this is a great game for any family who enjoys a game now again on the Wii console! Fun times, laughter and smiles for sure when you play Cars Toon: Maters Tall Tales.
Learn more about Cars Toon: Maters Tall Tales on their website. Purchase this Wii game on Amazon.com if you have a gamer on your holiday gift giving list this year.
"I wrote this review while participating in a blog tour campaign by Mom Central Consulting on behalf of Disney Interactive Studios and received the Cars Toon: Mater's Tall Tales Wii game to facilitate my review."