I am excited to be sharing a food review today with you all! For some reason I am all of a sudden fascinated with food choices and fast meal ideas, maybe it is because I have one in soccer, a preschool aged child and a toddler. This Mama is getting busier by the minute! When KRAFT asked if I was interested in tasting their new Macaroni & Cheese Homestyle Dinner in three different flavors I was totally game!
I was able to taste test the Hearty Four Cheese Sauce and the Classic Cheddar Cheese Sauce dinners. I plan to cook the Old World Italian with Parmesan and Romano Cheese Sauce sometime over the weekend. I wasn't sure what to expect when I first started cooking these other than I noticed that the cheese packages were an almost liquid type of cheese versus the powder cheese you add to most macaroni and cheese products. I knew this was going to be a cheesy meal but what I wasn't expecting was to have a dinner like this taste like home made baked macaroni and cheese!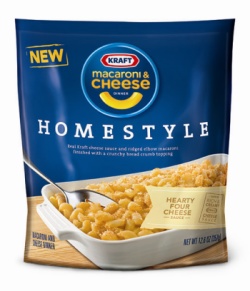 Unfortunately I wasn't able to actually place the final product in the oven to bake it for a while to increase the home made taste, but I could get that flavor when eating it without placing the meal in the oven. I need a casserole dish and thought I had one but was wrong. If you want a more home made baked macaroni and cheese flavor then you can place this in the oven for a while. Instructions are included on the package. We had this with broccoli to finish off the wonderful meal.
The kids loved it and so did I. I would highly recommend this to all the macaroni and cheese lovers out there! Simply delicious!