So this will be a short update today but I did exercise today on day # 5 of my EA Sports Active 30 Day Challenge
and had to give a quick update so that you can stay motivated and I can too!
Today I had to visit the OBGYN for my annual and apparently my blood pressure is like 140/100 or 100/140 … I believe the 1st one is correct, either way it is HIGH and now I have to work on quitting smoking AGAIN as well as keeping up with my exercise routine and my friends on Twitter mentioned reduce my salt intake — the salt reduction will be the hardest for me honestly!
So as you can see my goals for burning calories has hit over 70% .. I am burning them off fast ….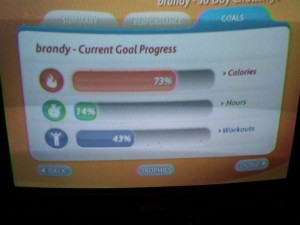 And next today was a short workout, as I wasn't feeling so great after my appointment, I didn't do running/walking on the track which is something that is built into almost every day's exercise … just couldn't handle it this morning with my blood pressure, sick kids and sick me!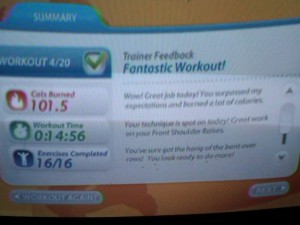 So tomorrow is my day of rest, there will be no day 6 update as there will be no exercising, unless I am completely wrong and it is a day of working out, shall check that again later since my brain isn't working so well today!
Make it a Happy Day!
Need a virtual assistant? Hire me, I have an opening to do YOUR Entrecard drops for you … 300 a day and I can do them in 30 minutes! I only have ONE opening for EC drops but have 2 openings for per project or ongoing clients!