I am so excited to announce that I am hosting a Jell-O giveaway for all you chocolate lovers out there! I have taste tested one of these Jell-O products before and must admit they are delicious!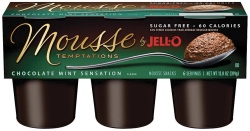 First let me tell you a bit about Jell-O's new products:
MOUSSE TEMPTATIONS by JELL-O – You won't believe Mousse Temptations by JELL-O is sugar-free with its rich, creamy, flavor. With three decadent chocolate flavors, indulge in your "me time" with these 60-calorie treats. Available in three flavors
Chocolate Mint Sensation
Chocolate Indulgence
Dark Chocolate Decadence
Sugar-free JELL-O Pudding Cups – You'll love the smooth and sweet taste of sugar-free JELL-O Chocolate Pudding cups. Whether on-the-go or in your lunch sack, the individual cups make great go-to treats.
Original JELL-O Pudding Cups – Kids love the creamy mixture of Chocolate Vanilla Swirl Pudding cups. With its sweet taste and delicious dual-flavor, kids will think you're the coolest mom on the block when they see these cups in the refrigerator.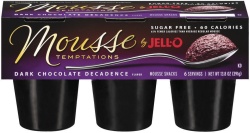 Are you ready to win? Oh yes my friends one luck person will win a full sample box of the five varieties of Jell-O!
Pretty easy to enter, multiple ways, each completed entry counts as one entry! Giveaway will end at 11:59pm EST on November 19, 2010
Let me know which flavor listed above you just can't wait to try in a comment below.
LIKE Jell-O on Facebook. Leave a comment with your Facebook username.
LIKE Happily Blended on Facebook. Leave a comment with your Facebook username.
Follow @brandyellen on Twitter. Leave a comment below with your Twitter username.
Tweet up to THREE TIMES max per day and leave a comment with link to each tweet.
Subscribe to Happily Blended via email or RSS (RSS icon in right hand side will work to subscribe either method). Leave method of subscription choice below.
Follow Happily Blended through Google Friend Connect publicly. Leave a comment below with your GFC username.
Leave a comment on another non-giveaway blog post, you may do this for up to TWO non-giveaway posts per day!
Share this on any social media site or your blog. Leave a comment below for each place I can find the share of this giveaway! Be sure to include a link to this giveaway where you share this!
Have fun and Good luck!
Disclosure: I didn't receive any compensation nor product for this post. I happened to have loved my test taste before and thought it would be wonderful to offer you all a sample.