Boasting a stellar ensemble of well-known celebrity voice talent, The Super Hero Squad Show animated series features super-stylized versions of Marvel's popular characters (including Captain America, Silver Surfer, Thor, Hulk, Wolverine and Iron Man) with a comedic twist. Marvel has attracted some top voice talent to play the roles of Marvel's iconic heroes and villains, including Tom Kenny (aka Spongebob) as Iron Man, Captain America and M.O.D.O.K., Grey DeLisle (Fairly Oddparents) as Ms. Marvel and the Enchantress, Alimi Ballard (NUMB3RS) as the Falcon, and Charlie Adler (Cow & Chicken, Transformers 1 & 2) as Dr. Doom. In addition, superstar guests have lent their voices to breathe life into a wide array of other Marvel characters, including Shawn Ashmore (X-Men films) as Iceman, LeVar Burton (Ali, Roots) as Rhodey, Taye Diggs (Private Practice) as the Black Panther, Robert Englund (A Nightmare on Elm Street) as Dormammu, Greg Grunberg (Heroes) as Ant-Man, Mark Hamill (Star Wars) as the Red Skull, Lena Headey (Sarah Connor Chronicles) as the Black Widow, Tricia Helfer (Battlestar Galactica) as Sif, Cheryl Hines (Curb Your Enthusiasm, The Ugly Truth) as Stardust, Wayne Knight (Seinfeld) as Egghead, James Marsters (Smallville, Buffy The Vampire Slayer) as Mr. Fantastic, Jennifer Morrison (Star Trek, House) as the Wasp, Adrian Pasdar (Heroes) as Hawkeye, Kevin Sorbo (Hercules, Meet The Spartans) as Ka-Zar, George Takei (Heroes, Star Trek) as Galactus and Michelle Trachtenberg (Buffy the Vampire Slayer, Gossip Girl) as the Valkyrie. The cast is also joined by comics legend Stan Lee (co-creator of Spider-Man, the Fantastic Four, the X-Men, Iron Man, the Hulk, Thor and many other Marvel characters) in a recurring role as the Mayor of Super Hero City.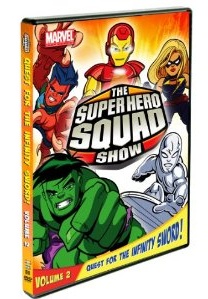 If you have a super hero lover in your home I would say you must get this DVD! A great stocking stuffer or small gift idea for someone on your gift giving list that loves Cartoon Network or Super Heros. My sons enjoy watching this DVD during their relax time, although this DVD usually will get them a little wound up and ready to run and play. I have enjoyed watching my sons love the The Super Hero Squad Show: Quest For The Infinity Sword! on DVD and am happy to say that I think you should at least check it out for yourself.
BONUS FEATURES:
A new interview with Stan "The Man" Lee
Music Video
The Super Hero Squad Show Trailer
The Super Hero Squad Show Online Trailer
THQ's SHSS: The Infinity Gauntlet Game Trailer
BUY IT:
Disclosure: I received this DVD for free from Shout Factory in order to full review the product listed above. All opinions are based on my experiences!