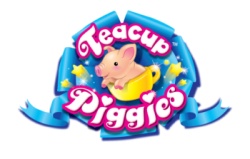 Oh yes we have it, Princess, a teacup piggy member born in December. This little piggy doesn't go to the market, she rocks our house hiding wherever she can, but usually in the arms of my daughter or youngest son. I even caught her playing with Baby K as seen below in my YouTube video.
Teacup Piggies ROCK

Teacup Piggies are six inch miniature versions of real Teacup Pigs. They speak over 20 phrases and each piggy comes with its very own teacup, accessories, and birth certificate. Fabulous wardrobes and playsets sold separately.
Late last year, miniature pigs called teacup pigs became the new must-have pet. There are now hundreds of websites dedicated to these adorable pigs thanks to celebrity owners such as Jessica Simpson, Carrie Underwood, David and Victoria Beckham, Harry Potter's Rupert Grint, and Peter Facinelli of Twilight fame. They've been featured on The Tonight Show
with Jay Leno, Jimmy Kimmel Live, Good Morning America, and The Today Show.
Purchase Your Own Teacup Piggy
SRP: $5.99 -29.99
Fashion set $5.99, Piggy set $12.99, Deluxe accessory set $12.99
Three playsets $17.99-29.99
Available at ToysRus, Walmart, K-mart, Walgreens, and Radio Shack.
Amazon.com has a small supply as well.
Learn more about Teacup Piggies online through the Teacup Piggies website, Facebook and Twitter.