I am addicted to Extreme Makeover: Home Edition, I talk about this show a lot on my blog because it's an amazing act of kindness and of course I have always wanted to be on the show back when I needed so much work done to my home before I moved. Today I am sharing information with, or a sneak peek so to speak about the upcoming show airing on Sunday, November 14, 2010 at 8EST/7CST. Of course you can catch this show every Sunday at that time too, watch out, you may shed a tear or two, I know I usually do!
"Lighthouse School/Sweatt Family" – With their sights set on "The Volunteer State," The Extreme Team returned to Nashville, Tennessee inspired by the state that lives by the standard of neighbor helping neighbor. Devastated by the 500 year flood on May 1st of this year, one image continues to endure. News stations across the country featured footage of a school building floating down the interstate.  What people didn't know was that the Sweatt family had been running the school since 2003.  Despite the extensive damage to their own facility, Brian and his wife Barbara spearheaded recovery efforts and have helped over 200 families to date.  On September 10th, the Extreme Makeover: Home Edition designers teamed up with some of country music's brightest stars to take the bull by the horns and deliver a new school to some deserving students.
Totally had to share a pic of Ty, I love him tons! He has such energy and works well with his design team to make Extreme Makeover: Home Edition work so well! This week they are in Nashville and I can't wait to hear what everyone will be tweeting about the show live on Twitter using hashtag #moveThatBus, make sure you get in on Twitter for great tweets about the show!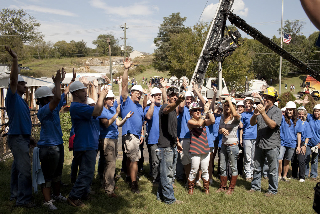 Look at all those volunteers! It's amazing to see support for families in need! So I am hoping you all will tune in this Sunday at 8pm EST and watch another family have a dream come true!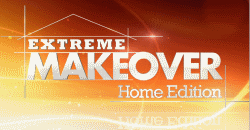 Remember if you are on Twitter to tweet live using hashtag #MoveThatBus to keep up with everyone watching the show!
Follow Extreme Makeover: Home Edition on Twitter and Facebook.
**This post was brought to you by Extreme Makeover Home Edition**