As most of you may be aware of @MommaDJane and I were offering a grand finale giveaway, which we were "suppose" to vlog on Saturday, however, things happen or rather didn't happen and so here is the grand finale giveaway winner anouncement….
But First I must tell you what this person is getting, I will not list all items but here's a sneak peek at what you can expect in the mail …
Drumroll please…. random.org took all comments into consideration and here is the random number that generated: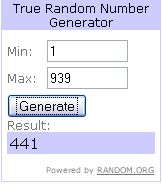 Lucky comment # 441. Let it be known the total of 939 comments came from each and every one of our giveaways listed to include our final post that told you to comment to be entered!!
The winner can be found on Twitter as @amspeaks  and here she is:
How exciting!! Congrats and I will be sending you an email shortly! Please respond in 48 hours

Thanks to all who participated in our TX to NH countdown event, it was fun and exciting!