Oh how yummy it is that I was able to review some holiday flavored ground coffee from Dunkin' Donuts! This was a pleasure for me to complete as I am already a Dunkin' Donuts fan, familiar with not only their food but their french vanilla ground coffee that you can brew right at home! Can we say delicious? Oh I can for sure!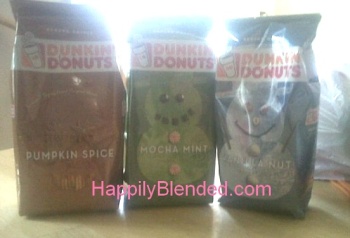 The holidays are coming for me I have Thanksgiving and then Christmas dinners. This year I was able to test drive the holiday flavors that you can now find at your local grocery store from Dunkin' Donuts. I received three flavors of ground coffee; Vanilla Nut, Pumpkin Spice, and Mocha Mint.
The Vanilla Nut was taste tested first as I knew it was something both J and I would enjoy together. It was delicious, a mix of maybe Dunkin' Donuts Hazelnut and French Vanilla ground coffee choices.
Next choice for me was Pumpkin Spice and well J didn't like it. Here's what I did; every night we set up our coffee machine so that in the morning we simply click the on button to start it brewing. I did have it all set up the night before and J happened to get up with the kids this morning & start the coffee, poured himself a nice big cup of hot coffee put his cream and sugar in it then took a big ole sip …. just to find out the coffee was not our regular plain ole bland coffee but a bit spicier! I laughed when he told me that, because well he doesn't much care for the Pumpkin Spice flavor. I'll tell you what though, I LOVE IT!
Pumpkin Spice didn't sound super appetizing to me but I wanted to taste it anyways, and it was delicious! I still have some left, I think I need a second coffee pot so that I can make it one morning for myself to drink.
I also hope to get a chance to taste test the Mocha Mint which my Dad was saying maybe have one evening I believe. Like a sipping coffee cup late night add some Bailey's Irish Cream to it or something. I will for sure have to test that out!
Overall I am very satisfied with the two flavors I have tried so far and I would highly recommend these as a gift, something to bring to the dinner with family this year or for your own personal use!
"I wrote this review while participating in a blog tour campaign by Mom Central on behalf of Smuckers and received necessary products to facilitate my review. In addition, I received a gift certificate to thank me for taking the time to participate."