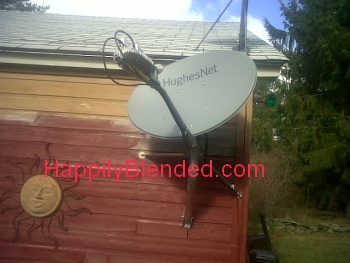 Before moving to our new location we found out that we would no longer be able to have Comcast Internet, which was a big bummer as it's super fast and we were living in a location right off of a main highway before so the speed was even more fast than expected. That was then, this is now. Today I am living with HughesNet Satellite Internet service.
As a family we looked into all of the satellite plans and I also asked around on MomDot Forum, Twitter and Facebook to find out what others thought about using satellite Internet. I work from home, Internet is my income so we must have a reliable source of Internet here!
Some of the feedback I received wasn't all that great, many were telling me to have a backup provider, others mentioned that the connection was slow and would go down often. Then there was this one person who informed me that she has been using HughesNet for about twelve years now and it has worked pretty good for her! That was a relief to start hearing some positive, I seriously ended up in tears at one point for fear that I would not be able to put in as many hours as I was before.
I love my income, I love my jobs and without them we could financially survive but I would go crazy not working to make some revenue, not to mention writing is my therapy! After living here a month or so now I can say that I am impressed with the service we have through HughesNet. There was one week without Internet due to waiting for money to purchase our dish outright, and the next week was a bit tricky because the satellite went down one night and the network we have here was set up in a weird way that triggered my office computer to not go online.
Overall, I am very pleased! I woke up to an ice storm looking backyard and frontyard, trees, driveaway, cars all covered in ice, but went into the office and voila my internet was still working just fine!
So what do you have for Internet and are you happy with your service provider?