My family was able to test out Road Rippers R/C Motor Muscle car from Toy State!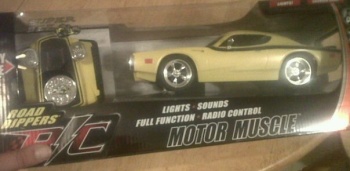 My sons were so excited about getting this car, it was received shortly before our move which is why it was more of a tease than anything to them. We waited until we got into our new home with hardwood floors so they would have room to test this out in a big living room rather than a small kitchen area.
I would have to say that my four year old enjoys racing the car as fast as he can across the floor and my two year old enjoys listening to the old school music found on the remote control for this R/C motor muscle car!
The only downfall to this car I found was that you can't be too far away from the vehicle with the remote in order for it to work, I think it's about 3 feet, which is great for the little ones but not so great when the adults are trying to play with it

About Road Rippers R/C Motor Muscle
Ages 7 and up is the rating.
Price is approximately $35.
Line of classic 1960's and 1970's muscle cars that offer full-function radio control features.
Each classic car includes its own uniquely styled remote controller that incorporates design cues pulled from the actual vehicle.
Play features include flashing lights and a popular classic tune from the car's original era.
Motor Muscle models include 1967 Corvette Stingray, 1969 Doge Daytona, 1971 Dodge Super Bee and 1970 GTO Judge.
The Road Rippers R/C Motor Muscle collection is available at Wal-Mart, Target, Toys "R" Us, Kmart and stores nationwide.
For more information on this product you may visit Toy State's website, follow @toystate and Like Toy State on Facebook.
Disclosure: I reviewed this product based on my honest, personal experiences with the product. The item was provided for free from Team Mom.