The other weekend we thought we would travel out into the woods and check it out! At first I started walking off into the woods by myself with my orange hat on for protection from them hunters and then Ki slowly started to follow, next was J and the boys.
Spending about an hour in the woods we found old metal tins, old hoses, a river looking thing at the bottom of a long, steep hill, and then we started to walk along the stone wall border of the boundary line for our property and neighbors property. That is when exploring went a little further than what we had ever experienced before.
Yes we found bones, assuming these are animal bones, looks like what a hip bone? There is also some pieces of bone here and there in the pics. We took another pic of the longer bone shown in above picture …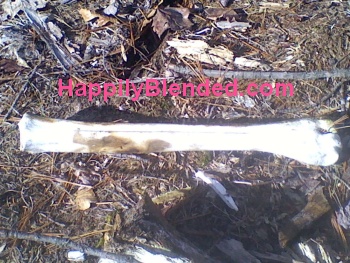 And last but certainly not least we found one other bone out on the other side of a stone wall just buried lightly with pine needles and dirt … please tell me someone that these really are animal bones … right? Please!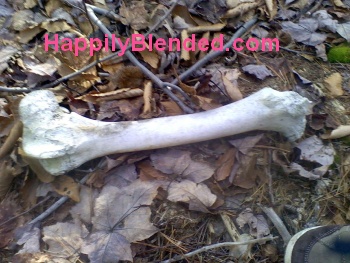 I did send the pics to my Dad who assures me they are some animals bones and I have to listen to him because it's really the only thing that makes sense living away up here in the hilly landscaping with animals everywhere, coyotes howling at night … but part of me wonders … what if … they … are … not … animal … bones ….