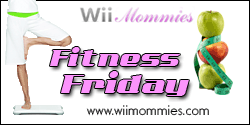 It's that time and I have to hold myself accountable as @SuperJennBlogs told me on Twitter last night. It's all about setting little goals and sticking with them. So here's to you my friend, I am here writing my Fitness Friday post to update everyone on the lack of fitness I have had for at least a week now.
There is a lot going on here in the @brandyellen household from AJ who won't sleep to Baby K who was sleeping in his playpen overnight without a problem then all of sudden cries for two hours before finally settling down to sleep alone outside of our bed.
The Wii Fit and EA Sports Active have been staring at me saying "@brandyellen you can do this. If the #wiimoms can YOU CAN" but well life takes over sometimes.
We have also been thinking for a month now how I can't handle our black lab and all the issues with the boys by myself while hubs is working and so we finally have made the decision to re-home her and that's been breaking my heart so I am trying to spend quality time with her before I have to say goodbye to a pup who has been so sweet but can live a better life some where else. So sad and it has been keeping me down in the dumps lately.
For a goal – I would like to set a goal of 20 minutes a day for the next 7 days on my Wii Fit, the EA Sports Active is great but I am starting with Wii Fit since it's more "fun" and games to me, plus the kids will do it with me which may help me stick with my 20 minute a day goal.
I hope to blog next Friday telling you all about reaching this one week goal and setting another goal for the next week. Join the Wii Mommies on their blog, forum and over on twitter using #wiimoms to find the fitness support you need from a group of women who are awesome!