You all already know how much I am in love with The Search For Santa Paws, well there was a virtual rountable discussion with Director/Producer/Writer Robert Vince and Writer/Producer Anna McRoberts, here is part of the transcript from this discussion: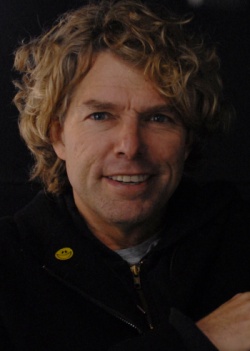 Q – What are your most memorable Christmas moments? You must have had those moments, because this music is touched with a bit of magic!
A – Robert Vince: My most memorable Christmas moments are with my family in Malibu, CA with my kids. My favorite childhood memories are with my five brothers and sisters in Vancouver when we used to build snowmen in our back yard. Yes, the music in the movie is very emotional and was created by Brahm Wenger who is a composer we have worked with since the original Air Bud movie.
Q – Why do you think talking puppies are so popular?
A - Anna McRoberts: I think talking puppies are so popular because we've always lived in a world in which we can only imagine what our pets/dogs are thinking. With talking puppies, we've opened up a whole new level of magic and imagination.
Q – Which was your favorite dog to work with?
A – Robert Vince: My favorite dog character is Rasta who is voiced by Chris Massey. There is just something hilarious about a Jamaican dog with dreads.
Q – For "The Search for Santa Paws", you literally found yourselves a new star with young actress Kaitlyn Maher. For such a young child, was she easy to work with, especially around the dog (that plays Paws)?
A – Anna McRoberts: We first used Kaitlyn as a voice on Santa Buddies and we were beyond impressed with her talent and presence and knew we had to put her in front of the camera next. Kaitlyn is an amazing person, very intelligent and a consummate professional. She was a true pleasure to work with. She is also a real dog lover and if I may speak for her, I am sure she might pick the puppy scenes as some of her favorites. In addition, her and Paws became very fast friends.
Q – What was the funniest blooper that happened on set with the dogs and/or kids?
A – Robert Vince: When you work with kids and animals bloopers occur daily. In the dancing scene "I Do Believe In Christmas," the girls were so excited they kept falling off the beds.
Q – Where did HuckleBuckle Toys come from? Your imagination or life experience? I love that name! Rolls off the tongue!
A – Anna McRoberts: Thank you! When we were writing the script, we needed a name that served several purposes. Firstly and most importantly, it needed to feel magical, that Hucklebuckle Toys was a store where anything could happen. Secondly, it needed to be able to be shortened and still work as a name, so that James and Kate Huckle, who shortened the name long ago, could return to their original name Hucklebuckle once they got in touch with the true meaning of Christmas. The magical name Hucklebuckle serves as a marker of belief, once James and Kate "learn to believe" in the magic of Christmas, they see the importance of changing their name back and continuing on the Hucklebuckle legacy.