Why oh why has SpongeBob SquarePants hit my home? Oh because I am allowing my children some down time with SpongeBob lately and when someone arrives at my home that is also my new code name for them. Kids say "who's here?" I say "SpongeBob Squarepants" and then they wonder why the UPS guys name is the same as the spongey cartoon character. Oops!
Anyways … back to the point! I am here to share with you the fact that on December 7, 2010 SpongeBob SquarePants: Season 6, Volume 2 released on DVD for your purchasing and viewing pleasure. For those that are SpongeBob Squarepants fans that is.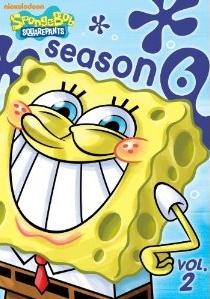 Since my kids are getting older and they have had a ton of the "other cartoons" that live on my TV a majority of the day I feel having this DVD added to our collection is just fine by me. Many parents may disagree, however, I know quite a few who love SpongeBob SquarePants and this information is for those of you who would love to add this DVD to your personal collection or your child's personal collection this holiday season!
Have you seen this yet? Let me know what you think!