I have used Mabel's Labels for many years with much success, the long lasting exceptional quality of these label's has surpassed all of my expectations as a mother. I still use prior year review labels for my children and this year I have had the privilege to test out The Ultimate Back-to-School Combo Pack for my youngest.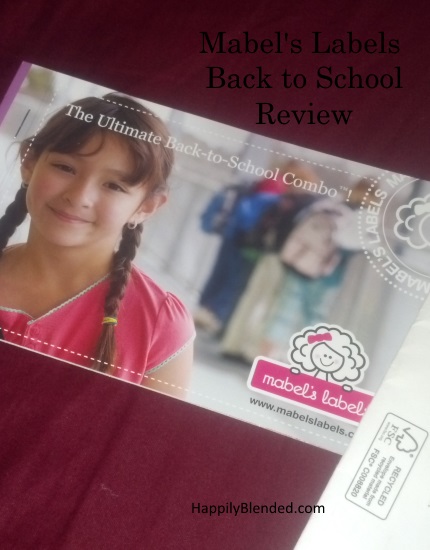 I use these labels on everything and they have a tiny key-chain type label for back packs and other items, such as putting it on a sweatshirt where the zipper pull is. This package is the perfect back-to-school grouping of labels that covers all bases; backpacks, school lunchboxes, clothing and more! I have had these labels last on clothing tags through the wash for a very long time and I have seen them not get peeled off of lunchboxes through out a full school year. The sticky quality of Mabel's Labels has always left me without a doubt, one Happy Mama!
About Mabel's Labels
Moms who were frustrated with all of those items that left their home with their children decided to find a way to resolve this issue. Sure, you may still end up with lost items, however, Mabel's Labels was created with us parents in mind; to help ease the burden of lost items between home to school or other outings our children attend. After a lot of time researching Mabel's Labels was created with fun and durability in mind. Mabel's Labels personalized sticky labels and clothing labels are dishwasher , microwave and laundry safe! With every company that has proven itself to the consumers, they have done what most do … grown to further their product lines in stationery, ID wristbands and household labels providing you with a label for everything so to speak!
Mabel's Labels Offers Fundraising
One thing that always catches my eye with a company is their ability to form fundraising events for schools and communities. Mabel's Labels offers fundraising setup for schools and other organizations with dedicated staff, unbeatable products and great commission rates. They thrive to make fundraising easy for you!
My Overall Opinion on Mabel's Labels
I have never been let down by Mabel's Labels, there have been no cons for me to list regarding this product because they seem to have a label size, type and design for all my wants and needs as a Mom. I have been overly impressed with the long lasting quality and ability to wash labels on clothing without fear of them coming off. I have been able to have them attached to many of my children's school items with much durability. The personalized options that Mabel's Labels has, leaves it open to anyone with any interest to be able to design their own label on site. I hope that you will take a peek at Mabel's Labels today and see what they have on site for your parenthood labeling desires!
Get Social with Mabel's Labels
Like Mabel's Labels on Facebook
Follow Mabel's Labels on Twitter