Yes, I admit we live in a household of beds that lay on top of a box spring on the floor. Only one of the beds in our home actually has a frame to keep it up off of the ground. I always wanted to have a good headboard for my bed, because having the bed so close to the floor really isn't all that wonderful when I want to sit on the edge of the bed and watch television or read a book. I always feel way too low to the ground. One day I started thinking about the need for headboards in this house and that's when I started surfing the web for some ideas of styles for my bed.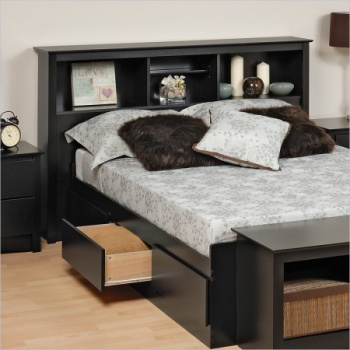 Once I started surfing the web I realized that I have a lot of options to choose from and one that stands out to me is the bookcase style headboard because it would fit my need of shelving. I am addicted to shelves and am often talking about my need for shelves in this house! I could place a picture and a little lamp as well as a book on this bookcase headboard and be happy as a kite. The website moreheadboards.com offers this cute headboard pictured above. What do you think of the bookcase style headboard?
In all honesty I have a queen size bed and my children have twins, except Baby K who still has his little toddler bed for now but from what I hear around all of my friends have more of a need for king headboards. Speaking of king sized beds, I had one once and I loved it! The room you have on a king is just wonderful, I miss my king sized bed.
I will trade my queen for your king … okay?