Are the days of care free over? School has started and Summer is coming to an end, NH is getting cold at night to a point that heat must go on and days are getting shorter. Is it true that Winter is on it's way and we will get a visit from Jack Frost before we know it? Please tell me this is a lie, that we will have just one more month of Summer weather, because I can't imagine the days of eating fresh veggies directly from the garden being gone.
Is it really true that we won't be mowing the lawn much longer?
And please don't tell me that my pool days are already long over with…
No more sun tanning with dark tanning oil?????
Please oh please tell me that Summer isn't almost over? Please tell me we will have some more random days of picking up orange newts outside…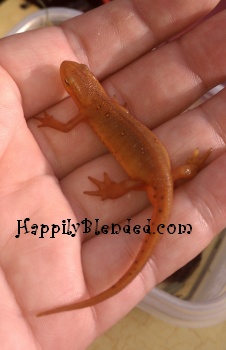 I must admit, I am a New England girl by birth; born and raised. Lived in New Hampshire my whole gosh darn life, but every year when Summer is over and Fall approaches my mind instantly goes to the dreaded thought of that pretty snow that I refuse to go outside in. Well hey, one great thing about Summer being almost over? It will be Ki's and my birthday soon!