My daughter was ecstatic that the complete 3rd season of iCarly is now released on DVD, although we received this DVD prior to today's release. Princess Ki is in love with iCarly, I honestly thought this fascination wouldn't have happened til sh e was closer to the teen years, but that's okay.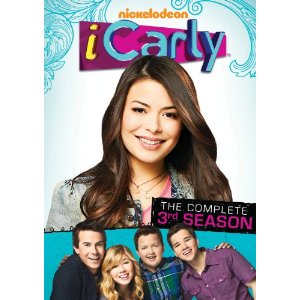 I have been watching this show with my daughter and I have to admit this is a show I would have loved as a teen. I wonder if any of you have an iCarly love in your home that would love this under the Christmas tree this year?

iCarly: The Complete 3rd Season Episode Synopses:
Disc 1:
iGot A Hot Room
Spencer tries to surprise Carly for her birthday and ends up burning down her bedroom instead. Fortunately, when the insurance company hands him a big check, he has a chance to make it up to her.
iDo
After an iCarly fan proposes to his girlfriend live on the web show, the gang gets roped into going to the wedding. When the bride gets cold feet, Carly must come to the rescue.
iSell Penny Tees
The gang goes into business making and selling Penny Tees. When sales go through the roof, Sam recruits fourth-graders to help make shirts. Unfortunately, this leads to a disagreement between Carly, Sam and Freddie about how to treat them.
iGet Pranky
Ridiculed for never pulling a prank, Carly recruits Spencer's help to prank Sam and Freddie. Once Spencer gets a taste for it, he is unable to stop pranking and the gang must figure out how to stop him.
iSam's Mom
After fighting with her mom (played by guest star Jane Lynch), Sam moves in with Carly, who soon realizes she's a horrible guest. Meanwhile, a dangerous criminal stalks Freddie after Freddie catches him on video committing a crime.
iPity the Nevel
When a video of Nevel yelling at a little girl surfaces online, everyone hates him. The iCarly gang celebrates his demise but works to restore his honor after Nevel begs them for help.
Disc 2:
iHire an Idiot
The gang decides it's time to hire an intern for the web series. Carly and Sam hire a guy they think is cute, but he proves to be trouble. Freddie helps Carly and Sam see that they're better off without an intern.
iStart a Fan War
The iCarly gang gets invited to be guests of honor at WebiCon, but things quickly get out of hand when the fans start asking questions that are too personal. Meanwhile, Spencer does battle with a costumed nemesis (played by guest star Jack Black).
iOMG
The gang spends the night finishing their projects at Ridgeway during the annual school lock-in. Meanwhile, Carly and Freddie start to suspect that Sam might have a crush on their new friend Brad.
iParty with Victorious
Carly suspects that her new boyfriend, Stephen, is cheating on her with Tori Vega, so the gang plans a trip to Los Angeles to catch him in the act at a party thrown by Andre at Kenan Thompson's house.
DVD Facts:
DVD SRP: $19.99
Catalogue: 822394
DVD Running Time: Approximately 312 minutes
DVD Special Features:
·  Carly's Hot New Room Tour
·  Meet Sam's Mom
·  Archenemies
WHERE TO BUY:
Amazon, Walmart and other retail stores that sell DVD's should have this in stock as it was released today, August 30th on DVD!
Disclosure: This DVD was provided to me for free as with all the Nickelodeon newly released DVD's. All opinions are based on my own experiences of viewing the DVD with my family!