I happened to watch Mars Needs Moms in the theater and my whole family fell in love with this movie. One of my favorite parts is when the martians are looking for more moms to have on their planet to raise the little ones because it is clear that the martians know a good mom when they see one. As much as I could go on and on about the various parts I LOVE in this movie, I will keep it secret so that you can enjoy this movie for yourself but please come back and leave a comment telling me what part you liked the best if you purchase this awesome family movie!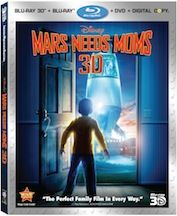 Seth Green and Joan Cusack are the best in this movie, of course it is just their voice. Seth plays the little boy and Joan is his "don't' put up with anything" Mom. I mean these two play their voice characters so well!  If I had to sum up this movie in words I would say:
Mars Needs Moms is an incredible, funny, heart warming family friendly movie that every parent must see! Mars Needs Moms truly shares the power of the love between a mother and child.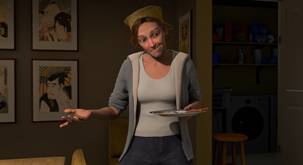 There isn't much more than that to say, and when I received the home DVD combo pack for my family to review I was blown away by the special features. Of course I need to get a Blu-Ray player so that I can actually watch the extras only included on the Blu-Ray version. For now I watched the special features on the DVD which are:
Martian 101 – Speaking Martian with lessons from an expert.
Fun with Seth – Featurette showcasing the on-set antics of Seth Green and Dan Fogler.
It was hilarious watching my kids try to speak Martian, seriously! I think every kid needs to see that special feature that is included on the DVD version of Mars Needs Moms! The fun with Seth was great too, it is so weird to watch them with the dots on their faces as two grown men goof around! It would be fun to experience being an animated part of this movie! I would have loved a place where we could go and goof around then see what we look like on screen.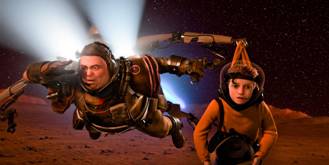 I give this movie TWO thumbs up and if I had more thumbs I would give Mars Needs Moms all of the thumbs up I had!
Preoder this DVD on Amazon.com
Disclosure: I received this DVD for free. All opinions are based on my own family's experience watching the DVD and special features.